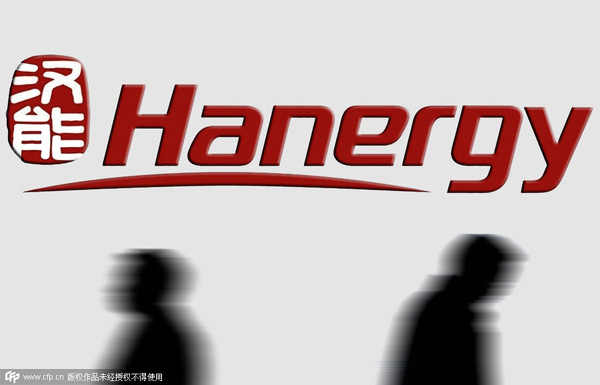 On May 20, about 47 percent of Hanergy's market value vanished in minutes and it is now under investigation by the Hong Kong Securities & Futures Commission. [Photo/CFP]
The Hong Kong securities regulator has directed the city's stock exchange to extend a nearly two-month suspension of all dealing in shares of Hanergy Thin Film Power Group Ltd, the Chinese mainland solar technology company being investigated by the watchdog after its shares plummeted in May.
In a statement on Wednesday, the Hong Kong exchange said the Securities and Futures Commission (SFC) had intervened under a rarely used provision that exchange data shows can lead to stocks being suspended for years in some cases. The bourse declined to comment beyond its statement.
The provision allows the SFC to halt trading in a Hong Kong stock if it believes the company concerned has distributed "any materially false, incomplete or misleading information" in relation to its affairs, has failed to comply with SFC rules, or if the SFC deems it is in the public interest to do so.
The SFC declined to comment on its intervention to suspend the stock, which takes responsibility for authorising a trading restart out of the bourse's hands.
Hanergy itself asked the HKEx to suspend trading in its shares on May 20 after the company lost half its market value of nearly $40 billion in just 24 minutes of trading. The stock has been suspended ever since, with the SFC announcing on May 28 that it is conducting an investigation into Hanergy's "affairs" without providing further details.
Officials at Hanergy did not immediately respond to requests for comment on Wednesday.
Hanergy's management had hoped share trading could be resumed and had been in talks with the exchange, according to a person familiar with the matter. Reuters reported on June 24 that the HKEx had asked Hanergy to provide its unlisted Chinese parent company's accounts before permitting a resumption, a request turned down by Hanergy.
The SFC has only used its power to intervene on trading resumptions on a few occasions. Previous examples include China High Precision Automation Group Ltd, a manufacturing holding company, and sports fabric maker Hontex International Holdings.
China High Precision, which was suspended in August 2012, is still awaiting the green light for a trading restart from the SFC, which hasn't disclosed details of the case.
Meanwhile Hontex shares were first suspended in March 2010 before being eventually delisted after the regulator investigated information provided to investors in the firm's initial public offering prospectus.