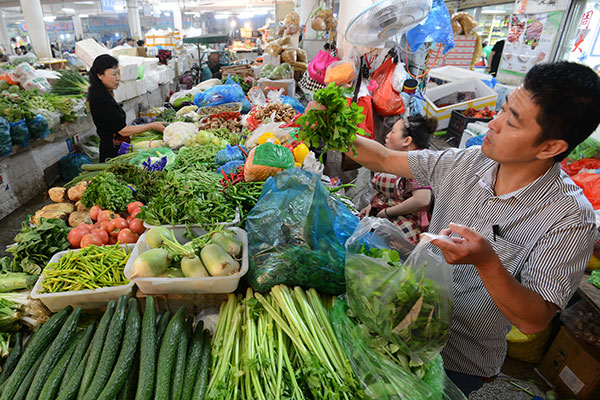 Residents in Fuyang, Anhui province, buy vegetables at a market on Thursday. In the first half of the year, The Consumer Price Index rose 1.3 percent from a year earlier, much lower than the annual target of 3 percent. [Photo/China Daily]
Lingering industrial deflation in June still a cause for concern
China's consumer inflation remained at a low level while industrial deflation lingered in June, raising speculation that policymakers may encourage more bank lending to shore up manufacturing and prevent risks arising from the stock market turbulence.
The Consumer Price Index, the main gauge of inflation, climbed to 1.4 percent in June from 1.2 percent in May, driven largely by the 1.9 percent year-on-year growth in food prices, the National Bureau of Statistics said on Thursday.
During the first six months of the year, the CPI rose 1.3 percent from a year earlier, much less than the annual targeted ceiling of 3 percent. The factory gate price, or the Producer Price Index, further contracted by 4.8 percent last month compared with a decline of 4.6 percent in May, the NBS said.
The 40-month consecutive PPI decline indicated intensified deflation in the industrial sector, related to the sharp drop in global commodity prices and weak demand.
The stock market swings, which saw the benchmark stock index fall to 3,373.54 points in intraday trading on Thursday from a seven-year high of 5,178.19 points in just three weeks, may increase deflationary pressure on industrial production as investors are likely to reduce their future investments due to the liquidity squeeze, economists said.
"In the short term, the best measure we believe is to cut 50 basis points of the reserve requirement ratio to inject liquidity into the banking system," said Liu Ligang, chief economist in China at the Australia & New Zealand Banking Group Ltd.
"The central bank may soon announce a cut in the RRR as it can provide strong signals of the sufficient liquidity necessary to support the stock market and further lower the banks' lending costs. Encouraging more bank lending will also help curb deflation risks," said Liu.
He said that the country's GDP growth may slow to below 7 percent in the second quarter of the year based on recent indicators.
With the CPI remaining low, the central bank will still have room to further lower the benchmark interest rates. It may cut the rates as early as in the third quarter by 25 basis points and by another 50 basis points in the fourth quarter, said Liu.
The People's Bank of China has cut the one-year deposit and lending rate by 25 basis points and cut RRR for a targeted group of financial institutions on June 28 to stabilize growth and partly help boost stock market sentiment.