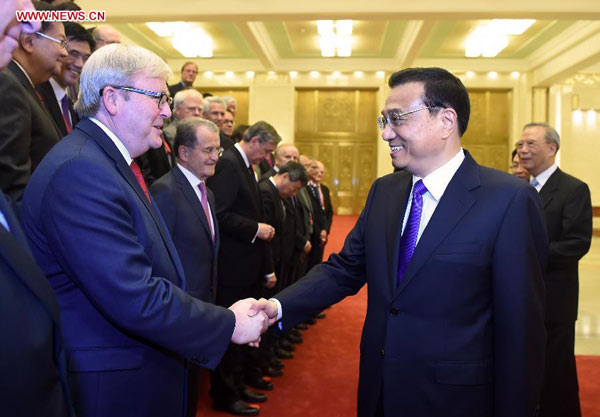 Premier Li Keqiang (R, front) shakes hands with overseas representatives who come to Beijing to attend the 4th Global Think Tank Summit, in Beijing, capital of China, June 26, 2015. [Photo/Xinhua]
The year 2015 marks the 40th anniversary of EU-China diplomatic relations - a milestone in our cooperative relationship thanks to which the EU and China now enjoy one of the world's biggest trade relations. Our bilateral trade grows even bigger year by year. In 2014, the total volume of trade in goods amounted to almost 470 billion euros ($526 billion). Over the years, this partnership has grown beyond trade and extended to creating opportunities for our businesses, international security, environmental protection and academic exchange. The summit we will hold in Brussels is both a recognition of the importance of our cooperation and also an opportunity to intensify this partnership.
The European Union and China are both engaged in serious economic reforms. In Europe we are strengthening the governance of the euro area and working to boost competitiveness at the national level. The European economy is showing clear signs of a broad-based recovery. And now we must ensure its sustainability. In the past we have focused our efforts on reorienting countries' public expenditures and improving their fiscal responsibility, but these two strands cannot be sustained without a third: investment.
The 315 billion euro European Fund for Strategic Investment aims to foster long-term growth and job creation by stimulating investment. The political agreement on the fund was reached in May and we are moving swiftly into implementation. The European Investment Bank has already started to finance projects worth more than 5 billion euros.
We are not talking about any kind of investment but the targeted kind that builds roads, railways, energy networks, broadband and provides a springboard to nascent and promising ventures, large and small. Like China with the Belt and Road Initiative, we understand the economic limitations of infrastructure that does not adequately serve a thriving modern economy.
Our investment plan will support the EU's Energy Union Strategy, which will establish the security of supply, sustainability and competitiveness, putting energy efficiency first and making Europe a world leader on low carbon.
A joint commitment to enhance climate change and energy cooperation is also an imperative. We know that being ambitious on climate change pays off: From 1990 to 2013, EU emissions declined 19 percent while GDP grew 45 percent. That's why tackling global warming should be seen as an economic opportunity.
The EU's investment fund is of course open to third country participation, not least from China. The European Union is built on the rule of law, and with a favorable economic climate, it is a safe haven that yields good returns on investment.
We also see great value in sharing our experiences from our investment plan for Europe with the new Asian Infrastructure Investment Bank. The bank addresses a genuine and significant infrastructure investment gap in Asia and we are happy to be putting our expertise at the bank's disposal to help the process along.
We are impressed by the breadth of China's Belt and Road Initiative in unleashing the untapped potential of the Eurasian continent through better connectivity, to improve the ports, roads and railways that connect the Eurasian continent and for investment to flow more freely between us. The EU and China should bring together know-how, resources and other strengths, to promote better connectivity between us.
But before laying down the bricks and mortar of any projects we should create the right investment climate, including for example, the right technical standards to build state-of-the-art infrastructure and ensure good relations between neighboring countries.
Investment in each other's economies is a win-win and the right vehicle for this is to continue our negotiations for a Comprehensive Agreement on Investment, which we launched at the last summit in 2013 and which we will discuss anew at this summit.
Our agreement should reflect a high level of ambition and include not just investor protection but real market access for business on both sides. These are prerequisites for advanced economies such as the EU and China. Showing that we can come to an ambitious investment agreement is the necessary signal we need to give businesses and markets. It will be a basis to develop our relationship.
The EU is a strong and reliable partner for China and our economies are ever more intertwined, to our mutual benefit.
There is a Chinese proverb that roughly translates as "the energy of the new generation inspires the old". As we, China and the EU, meet in Brussels, I am happy that we can now take this cooperation forward - following in our forefathers' steps, from generation to generation, and breathe new life into our partnership.
The author is the president of the European Commission.