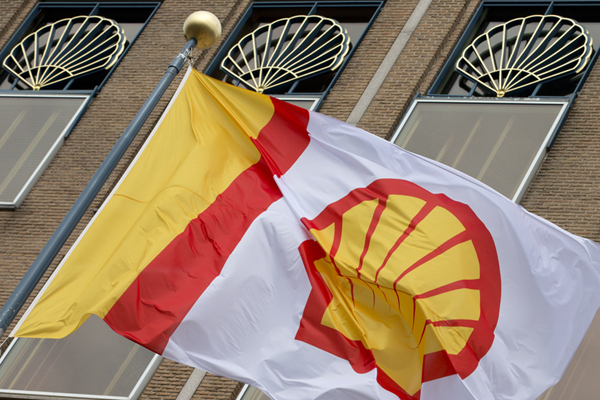 The flag of Royal Dutch Shell is seen outside the head office in The Hague, Netherlands, April 7, 2014. [Photo/IC]
Royal Dutch Shell Plc, the global energy company, has opened a new commercial hub in Shanghai on Wednesday, which it said will better serve its downstream business customers in China.
Around 400 staff, including 100 from its national corporate headquarters in Beijing, will work at the facility, including its lubricants, corporate sourcing, marine products, bitumen, and sulfur and chemical sales functions.
The company's Shell Shanghai University was opened on the same day at the center.
Shell also announced that Huibert Vigeveno, executive chairman of Shell Companies in China, is moving to the United Kingdom to take charge of its integration with BG Group Plc, once that $70 billion deal is completed.
He will be replaced by Zhang Xinsheng as executive chairman of Shell in China, effective July 1.
Vigeveno said the China restructuring will help it get closer to its customers and partners and improve its market opportunities.
Mark Gainsborough, executive vice-president of Shell Global Commercial, said even though the global economic downturn and the fluctuation of the international crude oil price had exerted some impact on the now-slowing global lubricants market, Shell has not encountered any difficulty in this regard as it is seeing plenty of opportunities in China, especially in third-and fourth-tier cities.
China took up 46 percent of lubricant demand in Asia Pacific last year and is expected to become the company's largest lubricant market in the next few years, said Gainsborough.
Globally, Shell's sales of natural gas products have exceeded that of oil products for two consecutive years.
In China, the company is focusing on the upstream and downstream production of natural gas products by working closely with key domestic players such as China National Offshore Oil Corporation and government bodies such as the National Development and Reform Commission.
Vigeveno said there was huge room for growth for its natural gas business unit in China.
Currently natural gas accounts for less than 5 percent of China's national energy supply, he said, but that is expected to rise to 8 percent by 2020, although still relatively small compared to 25 percent in both North America and Europe.
Li Yubo, a senior analyst with the online platform of large commodities trading information provider 315.com.cn, said: "The establishment of this commercial center in Shanghai will provide Shell with more flexibility in terms of distribution in China.
"Take sulfur products for example. China has been heavily reliant on imports of these products while Shell has been a very important supplier in the past few years. With this commercial center, Shell will make its logistics and distribution channel even smoother."