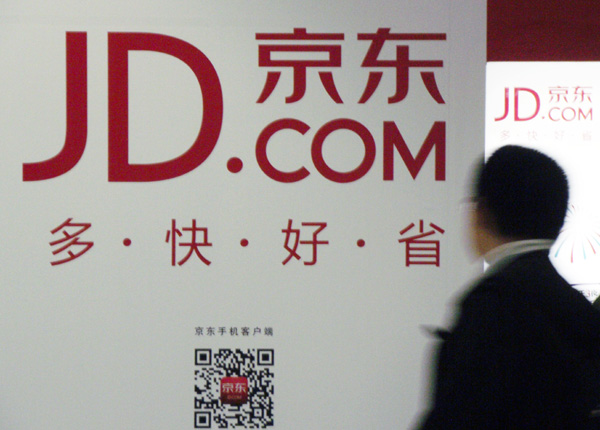 A man walks past an advertisement for JD.com in Nanjing, capital of East China's Jiangsu province on June 12, 2013.[Zhen Huai / Asianewsphoto]
BEIJING - E-commerce powerhouse JD.com is in hot water after two customers accused the largest Chinese online retailer of selling refurbished iPhones.
The situation came to the fore Sunday, when State broadcaster CCTV ran a program on product quality, in which two customers claimed to have purchased defective iPhones with fake components that may lead to complete shutdown of the phone.
One of the shoppers told CCTV that the iPhone 4S he bought on the website had many problems including frequent shutdowns, no signal and a non-functioning slide bar on the phone screen.
Another who encountered similar problems said checks by an Apple Store employee suggested her iPhone 5C, also purchased on JD.com, had been refurbished.
Chinese e-commerce is booming, with online retail trade increasing 49.7 percent year on year to 2.8 trillion yuan ($450 billion) in 2014, but online shoppers complain about fake products flooding the Internet.
Last month, the American apparel and footwear association filed complaints with the US securities and exchange commission and the US trade representative's office, claiming counterfeit apparel and footwear are widely available on Taobao.com, JD.com's biggest competitor.
Alibaba, owner of Taobao.com, reiterated its resolve to fight counterfeits and to continue to do everything it can to stop illicit activities through cooperation with quality watchdogs and brand owners.
JD.com, which promises all genuine products on its online mall, issued a brief statement following the exposure, saying that all its iPhones were supplied by VSENS, an Apple-authorized store. JD.com later issued another statement promising that the supply channel of its iPhones is trustworthy and it will work with market watchdogs to investigate the issue.
VSENS also issued a statement that it never did any refurbished phone business, and that all its iPhones were purchased from Apple.
Apple overtook homegrown brand Xiaomi to become China's largest smartphone vendor in the first quarter of 2015. Chinese customers can buy iPhones at all of the country's major online marketplaces.
The case has led to disappointment that JD.com and VSENS, a subsidiary of China's major telecom operator China Unicom, appear to be avoiding responsibility.
Who is responsible?
JD.com stands out among its competitors as being widely trusted in the land of fakes. For years, its promise of genuine products and quick door-to-door service have won public approval.
Following the iPhone issue, however, JD.com faces huge public pressure, accused of mere damage control. As the platform that delivers the goods to customers, JD.com should be accountable for product quality, no matter where the goods came from, said Zhao Zhanling, a legal expert with the China Internet Credit Evaluation Center. JD.com could face fraud accusations if it cannot prove the products were purchased from authorized resellers, he said.
"If the company sold products they knew to be fake, it will certainly face government punishment alongside paying back customers' money," Zhao said.
An investigation into the case is underway, according to an official with the Yizhuang branch of the Beijing administration of industry and commerce.
Online shopping disputes in China have soared on the back of booming e-commerce in recent years. In Beijing, a total of 47,794 complaints were lodged in this regard in 2014, 60 percent of total consumer complaints.