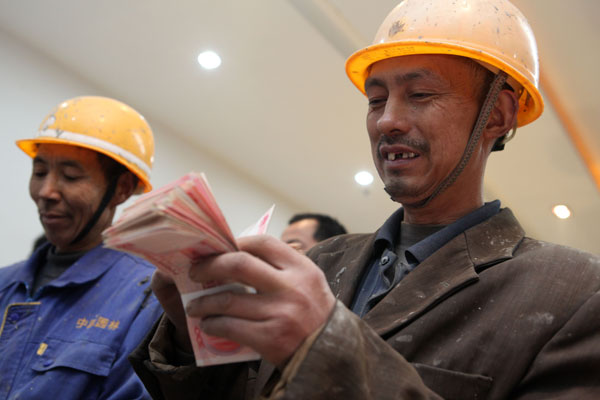 Migrant workers receive their pay at a construction site in Dazu district, Chongqing, on Dec 26, 2013. [Photo/China Daily]
BEIJING -- Rising wages may have cut the cost advantage of China's products, but a group of Standard Chartered economists on Friday predicted even higher productivity to come.
Wage rises and labor shortages are evident in the Pearl River Delta in South China, according to a report released by the bank on Friday. The country's manufacturing base accounts for 27 percent of foreign trade.
Standard Chartered surveyed nearly 300 manufacturers in the region in February and March and 85 percent said the labor shortage is not getting better. They expect wages to rise by around than 8.4 percent this year.
Narrowing profit margins, financing difficulties, uncertainties over future orders and an increasingly volatile yuan are all threatening these companies' survival, but instead of sounding alarms Standard Chartered said the manufacturing sector is changing for the better: "The dwindling labor supply and other challenges could be seen as a catalyst for productivity gains as China moves up the manufacturing chain."
Forty five percent of those surveyed said investing in automation is the first strategy they would use to tackle rising labor costs. Guangdong Province has already announced goals to replace humans with robots to address rising labor costs in the delta. Other provinces have similar initiatives.
China is expected to have more robots operating in production plants than any other country by 2017, according to the International Federation of Robotics (IFR). Positive results have already been seen, with 67 percent of the companies surveyed saying productivity gains have exceeded wage growth.
The bank also found some manufacturers moving production to Southeast Asian countries like Vietnam and Cambodia, where cheap labor is in abundant supply. It is mostly textiles and clothing factories at the low end of the manufacturing chain that are moving out, the bank said.
As Chinese manufacturers look to tech-intensive production, the "Made in China 2025" plan released this week encourages domestic manufacturers to seek a greater edge in sectors from machinery and high-speed rail to aerospace and telecom equipment.
This shift toward more sophisticated manufacturing, Standard Chartered said, indicates innovation and technology will have more to contribute and the exit of low-end manufacturing should not be much of a concern.
"The short term pain for the Pearl Delta region will lead to long term gains for China," the report said.