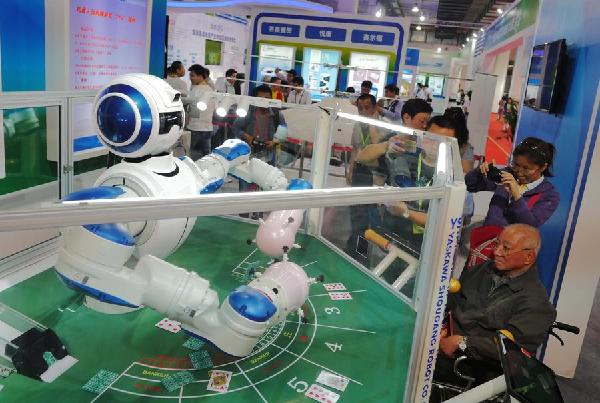 A robot on display during the 18th China Beijing International High-tech Expo in Beijing, May 13, 2015. [Photo/Xinhua]
Country is world's largest market but wants to become a major manufacturer as well by 2030
China, the world's largest industrial robot market for the second year running in 2014, aims to become one of the leading manufacturers of the machines by 2030, trade delegates were told on Thursday.
The goal was set out at the annual meeting of the China Robot Industry Alliance in Yongchuan, Chongqing.
Last year, 57,000 such machines-a quarter of the robots made around the globe-were sold in China, a 55 percent increase from the previous year.
South Korea, Japan, the United States and Germany were the other major markets last year, according to the International Federation of Robotics.
Demand for robots in China has been increasing at an annual rate of 58.9 percent since 2009 because of rising labor costs and a shortage of workers, and the country became the world's top buyer in 2013 with orders for 37,000.
Foreign companies dominate the Chinese market and sold 40,000 industrial robots last year, about 70 percent of total sales.
Domestic manufacturers have been catching up rapidly since 2005 as more than 700 companies have entered the field. It is estimated that the number will reach 1,000 this year.
In the past two years, Chongqing's Yongchuan district has attracted 65 robot makers to its Phoenix Lake Industrial Park, and it plans to have 200 robot companies by 2020.
"Both Chongqing and Chengdu in Sichuan province are major manufacturing bases and they will have a very strong need for robots," said He Minjia, president of Guangzhou CNC Equipment, one of the groups that has set up a company in Yongchuan. "We see a huge potential here."
Industrial robot manufacturing is one of 10 key sectors that will benefit first from the newly released national plan called Made in China 2025.
The plan, under the direct supervision of Premier Li Keqiang, is designed to make breakthroughs in bottleneck areas so that the country can play an even more important role in the global manufacturing chain.
Thanks to the national policy support and huge market potential, "we predict that China can become one of the strongest industrial robot makers by 2030", said Song Xiaodong, the industry alliance's secretary-general.