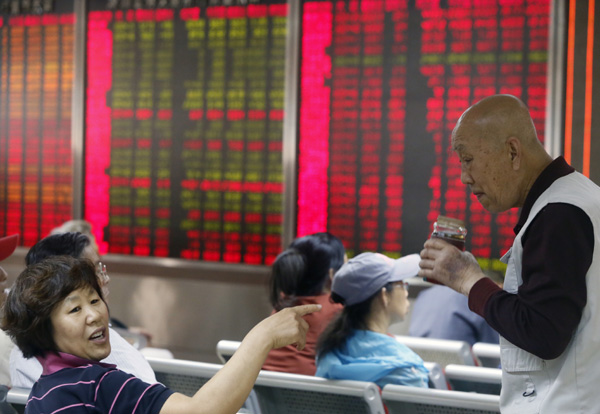 Stock investors at a brokerage in Beijing. The Shanghai Composite Index rose 3.1 percent to 4,417.55 at the close on Tuesday. [Photo/China Daily]
Gauge of financial firms surges by 4.5 percent from its lowest level Chinese mainland equities rallied the most in four months, led by brokerages and energy companies, as investors sought companies that have underperformed the benchmark equity index amid a flood of new share sales.
A gauge of financial companies soared 4.5 percent from its lowest level in six weeks as Huatai Securities Co and Changjiang Securities Co climbed by the 10 percent daily limit. PetroChina advanced 2.9 percent after tumbling almost 20 percent from its April high. The ChiNext index of smaller companies advanced 1.4 percent to a record high. Shanxi Yongdong Chemistry Industry Co and Tanac Automation Co both soared 44 percent in their Shenzhen trading debut.
The Shanghai Composite Index rose 3.1 percent to 4,417.55 at the close, capping its biggest gain since Jan 21 and the most among Asian benchmark stock measures. Twenty companies are scheduled to sell initial public offering shares from Tuesday to Thursday, which may freeze 2.8 trillion yuan ($451.1 billion). The liquidity lockup from subscriptions will peak on Wednesday, China International Capital Corp said in a report last week.
"Investors that got allocations for new IPOs will hold, but those who didn't get as much as they wanted will deploy excess funds to stocks that have underperformed," said Gerry Alfonso, a trader at Shenwan Hongyuan Group Co in Shanghai. "If an investor doesn't want to take too much risk, they will park their funds into large caps and try again when there are new IPOs."
Brokerages lead
The CSI 300 climbed 3.4 percent. The Shanghai Composite has rallied 120 percent over the past year, sending valuations to 16.8 times projected 12-month profits, compared with the five-year average of 10.2, according to data compiled by Bloomberg. Trading volumes were 22 percent below the 30-day average.
IPOs have been surging after regulators put pressure on companies to keep offering prices low to protect individual investors. While oversubscription rates mean the odds of getting into an IPO are slim, the reward is too big for investors to ignore-mainland IPOs that began trading this year jumped the maximum 44 percent allowed on their first day.
The CSI 300's financial index had its biggest gain in four months following a four-day, 6.5 percent slump. China Construction Bank Corp and Bank of China Ltd both gained 3 percent. Huatai Securities, which rebounded after sinking 16 percent from its April peak through last week, attracted two Internet entrepreneurs as cornerstone investors for a first-time share sale in Hong Kong that will raise as much as $4.5 billion.
Rotational buying
"Banks are quite cheap and brokers have lagged behind the broader market and the rally seems to be driven by rotational buying," said Wei Hou, a Hong Kong-based analyst at Sanford C. Bernstein & Co.
Margin traders increased holdings of shares purchased with borrowed money for a sixth day on Monday, with the outstanding balance of margin debt in Shanghai climbing to an all-time high of 1.28 trillion yuan.
Mutual funds managed a record 6.2 trillion yuan in assets at the end of April, the Securities Times reported on Tuesday, citing data from the Asset Management Association of China.
A gauge of energy shares in the CSI 300 surged 3.1 percent. PetroChina climbed the most since April 27. China Petroleum & Chemical Corp advanced 3.2 percent from its lowest level in a month. The financial and energy sub-indexes have been the worst performers over the past month, dropping at least 3.9 percent.