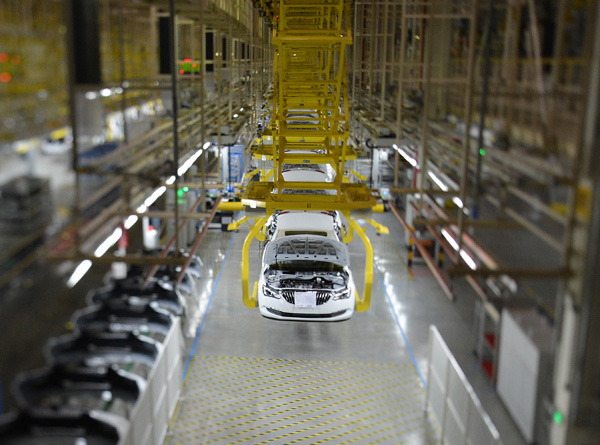 Assembly line of Shanghai GM motor, Jan 28, 2015. [Photo/China Daily]
China announced an ambitious plan on Tuesday to encourage innovation and boost the competitiveness of its manufacturing sector.
The plan, "Made in China 2025", will have a far-reaching influence on the nation's manufacturing strategy over the next decade by shaping the technology development path and future strengths of Chinese companies.
It is also the first phase of an ambitious 30-year goal that is under the direct supervision of Premier Li Keqiang.
Ten sectors, including machinery manufacturing, biotech and information technology, will be the first to benefit from the plan, according to the strategy drawn up by the Ministry of Industry and Information Technology and approved by the State Council. The plan includes setting up several innovation centers and IT facilities to boost manufacturing.
The investment in strategically important industries will help improve the level of China's manufacturing and competitiveness in the global market, said Miao Wei, minister of industry and information technology.
"It is a crystal clear goal for us. We are trying to push China from being the largest to being one of the strongest," Miao said, adding the "low-end" tag attached to most of the products made in the country does not bode well for long-term development.
"'Made in China 2025' is designed to make some breakthroughs in bottleneck areas so that the country can play an even more important role in the global manufacturing chain," he said.
One of the key bottlenecks the industry is facing is in the manufacture of high-end microchips.
China spent $210 billion last year on importing integrated circuits, more than was spent on buying oil around the globe, according to ministry data.
Microchips are critical components for electronic devices such as computers, smartphones and televisions.
"With overseas firms controlling most of the high-end microchip exports to China, we realized that it is important to develop our own microchips to avoid bottlenecks for the IT industry," Miao said.
The plan has been welcomed by domestic chipmakers such as Huawei Technologies and MediaTek, both of which anticipate increased business after it is implemented.