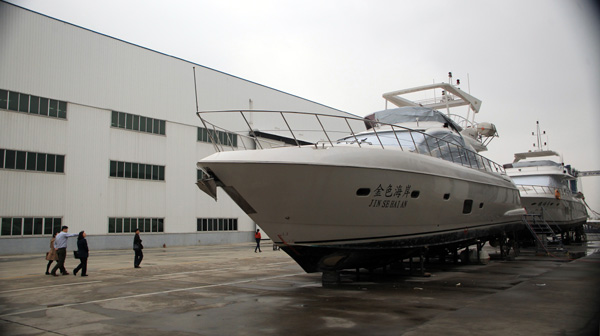 The yacht industry is one of the major ways for Hengqin to develop high-end tourism. [Photo/China Daily]
Tourism, innovation, cultural industries to get additional focus in development plans
High-end services will be the main growth driver for Hengqin, an island close to Macao that has recently been designated as part of the China (Guangdong) Pilot Free Trade Zone, local government officials said.
"Hengqin's GDP is negligible compared with the GDP in Guangdong," said Niu Jing, director of the management commission of Hengqin. "Therefore, we are not going to focus on the manufacturing model that Guangdong has been following for decades. High value-added sectors such as high-end tourism, services, innovation and cultural industries figure prominently in our agenda."
This 106-square-kilometer island, three times the size of Macao, has transformed itself from a fishing village into a bridge connecting the Chinese mainland, Macao and Hong Kong after it was made into a new development zone in 2009.
By 2016, when the Guangdong-Hong Kong-Macao bridge is completed, Hengqin will become the only place that connects the Chinese mainland, Macao and Hong Kong.
More than 60 projects with a total investment of 240 billion yuan are being built on the island ranging from entertainment parks to health services, medical centers, filmmaking units and exhibition centers.
Most of the companies can also enjoy favorable policies, like a 15 percent income tax. The general business income tax rate in China is about 25 percent.
Located 200 meters away from Macao, Hengqin has attracted a lot of business from the special administrative region. Individual Macao residents working in Hengqin can receive subsidies for their income tax. By the end of 2014, at least 213 companies from Macao had set up shops in Hengqin.
The traditional Chinese medicine industrial park in Hengqin is the first industrial park jointly built by Guangdong and Macao. Spread over 0.5 square kilometers, the facility has received investment of 1.2 billion yuan till date. The park is jointly owned by Macao and Guangdong, with 51 percent of the shares for Macao and 49 percent for Guangdong.
After the return of Macao in 1999, research institutes for traditional Chinese medicine were set up in both Macao University and Macao University of Science and Technology. The long-term goal of the park is to build a hub for health products, medical services, technology application, and logistics of traditional Chinese medicine.
A high-end international standard hospital will be built in Hengqin under the collaboration of Guangdong Traditional Chinese Medicine Hospital and Massachusetts General Hospital, a leading hospital from the United States. The hospital will be the first overseas hospital established by MGH and the first hospital jointly built by a global hospital and a TCM facility.
The two hospitals signed a framework agreement last year to bring top-notch medical facilities to people in Guangdong. Advanced technology, equipment and talent will be introduced to China from the United States.
"Tourists and local residents in Guangdong can enjoy high-standard medical services," said Niu Jing, director of the management commission of Hengqin.
Hengqin is also focusing on innovative cultural industries. Hong Kong-based Lai Sun Group invested in the construction of a cultural industry compound with a floor area of 1.46 million square meters and total investment of around 18 billion yuan. The center will house cultural companies in entertainment, movie post production, video game and theater, art auction houses and hotels.
Huafa Group, a State-owned enterprise, is constructing an exhibition center on the island that covers 269,000 square meters, which will host international automobile companies, yacht builders, printing supply enterprises and so on. Around 100 conferences are preparing to make the exhibition center the permanent venue, many of which are of large size with more than 1,000 participants.
Hengqin has also established a mechanism for young entrepreneurs aging from 18 to 45 from Macao. It offers office space at lower-than-market prices to prospective entrepreneurs in the designated area for startup companies covering 140,000 square meters.