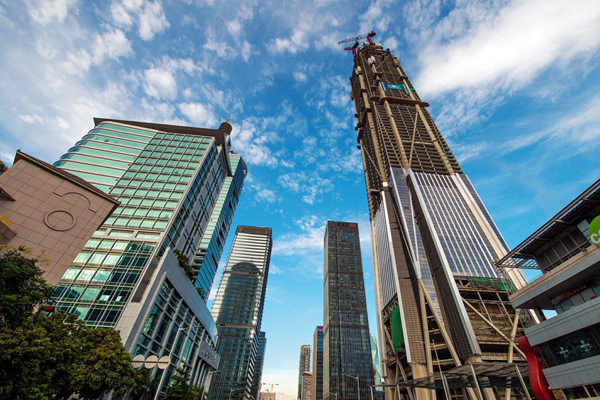 View of the Ping An International Finance Center (IFC) Tower under construction in Shenzhen city, south China's Guangdong province on August 21, 2014. [Photo/IC]
Pioneer city in Guangdong reinvents itself with innovation, technology and a young population, reports Bloomberg.
Whatever happened to Shenzhen?
Remember the place that became China's first special economic zone and spurred the nation's meteoric rise in manufacturing? The little fishing village opposite Hong Kong on the Pearl River Delta that became a sprawling mass of booming factories and 10 million migrants from all over the nation?
The city has reinvented itself once more with an economy that is set to overtake Hong Kong this year.
The workers banging out the world's toys, clothes and electronic appliances are mostly gone. In their place are bankers, tech entrepreneurs, researchers and hipsters.
Shenzhen's GDP grew 7.8 percent in the first quarter, the fastest among the biggest Chinese cities. Gone is the model of cheap labor and foreign investment pioneered by the late leader Deng Xiaoping. It is now driven by a force that Premier Li Keqiang wants replicated across China: innovation.
"It's a true paradise if you want to create your own business," said James Wang, a 39-year-old Internet entrepreneur based in Kexing Science Park, where the restaurant can serve 12,000 people. "Shenzhen is no longer a fishing village or a sweatshop. There are thousands of firms like mine in this park."
Deng made Shenzhen a testing ground for a market-based economy in 1980, and it succeeded beyond all expectations. In the Nanshan district, the technology heartland of the city, per capita GDP last year was 308,700 yuan ($49,730), higher than Japan and Germany and even the Hong Kong Special Administrative Region.
The city is home to many of China's most successful companies, including Huawei Technologies Co, Tencent Holdings Ltd and Ping An Insurance (Group) Co.
"While places like the rust belt in the northeast or the coal-mining area of Shanxi are falling into economic stagnation, Shenzhen is offering new hope," said Shen Jianguang, chief Asia economist at Mizuho Securities Asia Ltd in Hong Kong. "Shenzhen's growth is relying on innovation, technology and the efficient use of capital."
The switch to innovation and finance helped almost double the size of the city's economy to 1.6 trillion yuan in the five years to 2014. At that rate, it is on track this year to eclipse Hong Kong, whose economy is growing more slowly.
Behind that recent growth are companies such as SZ DJI Technology Co, maker of the top-selling Phantom drones, and OnePlus, whose smartphones are taking on Samsung Electronics Co and Apple Inc under co-founder Carl Pei, who is in his mid-20s.
The breakneck speed of Shenzhen's rise has come with the usual corruption and pollution that permeated China's boom years. Jiang Zunyu, a former district Party chief, is suspected of taking more than 250 million yuan in bribes in an official probe that caused the country's first developer bond default by Shenzhen's Kaisa Group Holdings Ltd.
While the air quality is better than other major Chinese cities, the rivers are still tainted by the city's industries, despite massive spending to clean up the water. Two of the most polluted rivers in Guangdong province in the first quarter flowed through Shenzhen, according to the local environmental protection agency.
Even so, Shenzhen is doing better than most places in China, which had the slowest expansion last year since 1990, as the central government grapples to stamp out corruption and inefficiency in dominant State-run companies. State-owned enterprises' first-quarter profits fell by 8 percent year-on-year.
"State companies value seniority and formality, but the Shenzhen gene is different," said Shorn He, 36, who moved to the city four years ago after working for a decade in a Beijing-based State company. He rented a small factory near the airport to process after-market smartphone screens. "Shenzhen has everything I need-the clients, the materials, the trained workers and the knowledge."
It is a combination that made drone producer DJI the darling of investors. In less than a decade, it has gone from startup to a valuation estimated in the billions of dollars.
"It's the first time for a Chinese company to create a new global market," said spokesman Michael Perry, from Texas, who estimates the company sells more than half the world's private drones. When Perry joined a year and a half ago, the company occupied three floors. Now it has 11.
At the Shenzhen Stock Exchange, the benchmark index has more than doubled in 12 months.
In the new financial free trade zone of Qianhai to the west of the city, companies have special dispensation to borrow yuan from Hong Kong at lower rates than mainland banks offer. Each working day, 100 new companies register in the zone, according to an official report. One was WeBank, China's first privately funded Internet-based bank, where Premier Li hit the button to make the first loan in January.
For the city's traditional manufacturers, it is a question of upgrade or move inland, where land is cheaper. In the suburb of Longhua, the city's largest employer, Foxconn Technology Group, churns out gadgets for Apple, Microsoft Corp and Sony Corp. Once the sole manufacturing base for iPhones and iPads, its Shenzhen workforce has dropped to 200,000 from 350,000 five years ago, as the company spread assembly to other cities like Zhengzhou in Henan province and Chengdu in Sichuan province.
Many of the positions that remain are higher skilled. Teams develop robots and train employees from other plants to operate them. Factory workers retrain as software engineers or animators.
Feng Wanzhi, general manager of poster-maker TCK Printing, has had to relocate her factory further and further out and is now at Buji Lianchuang Science Park, more than 10 subway stops from the new Ping An building. She complained that her margins have been squeezed by competition, falling prices and rising wages.