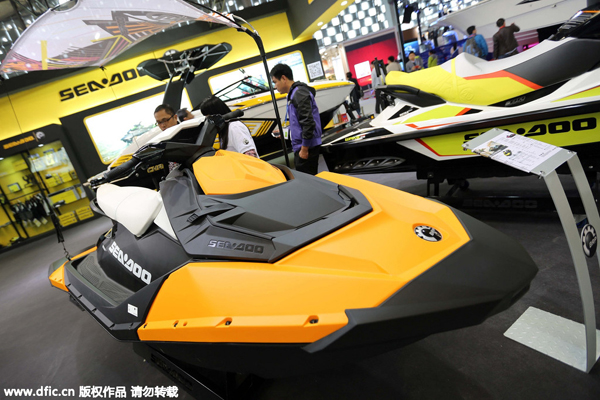 Visitors walk past motorboats on display during the 20th China International Boat Show in Shanghai, 9 April 2015. [Photo/IC]
An upgrading of China's official fleet has provided a significant boost to previously sluggish sector, reports Shi Jing in Shanghai.
The country's economic slowdown and Beijing's tighter controls on extravagance have hit the luxury yacht builders hard.
But, according to Huang Zhengang, secretary-general of the yacht division of the China Association of the National Shipbuilding Industry, it has provided a much-needed boost to smaller and more affordable yacht makers, which have also been enjoying rising sales of vessels used for official duties.
Prior to the 20th China International Boat Show, held in Shanghai in early April, Huang said demand for patrol boats increased by around 30 percent in 2014, and is expected to rise around the same this year.
He said as a result, the level of innovation being shown by the country's producers has grown considerably.
During the flagship maritime industry event last year, New Zealand-based manufacturer Sealegs International Ltd said it had landed orders for two boats from the Ministry of Transport, and officials were back this year hoping for more.
"The central government has attached a growing importance to the country's maritime sovereignty, which resulted in the expansion of the official boat market," said ZhangXian, Sealegs' chief representative in China.
"The contraction of the luxury market and the central government's crackdown on extravagance and corruption might have hit that sector, especially sales of super luxury Italian boats-but it has left more room for the development of cheaper and smaller boats," said Zhang.
"It's been perfect timing for us to develop our sales of official or military boats, and we have gradually expanded into the commercial boats market."
The burgeoning official boats market has also helped boost a new generation of builders, which includes Aurora (Dalian) Yachts Co Ltd.
According to Wu Yanshen, Aurora's business department manager, demand since 2010 has been driven by the country's fisheries administration and by bodies involved in maritime surveillance, such as port authorities and coast guard.
"This increased requirement by the central government means a number of law enforcement bodies have been placing orders, often with specific requirements."
Older glass fiber reinforced plastic designs, he said, are being replaced with the very latest aluminum-alloy designs, he said.
The replacement of aging tugboats and pilot vessels by port authorities has been particularly welcome, said Wu, for what has been a sluggish Chinese shipbuilding industry with few signs of a recovery in recent years.