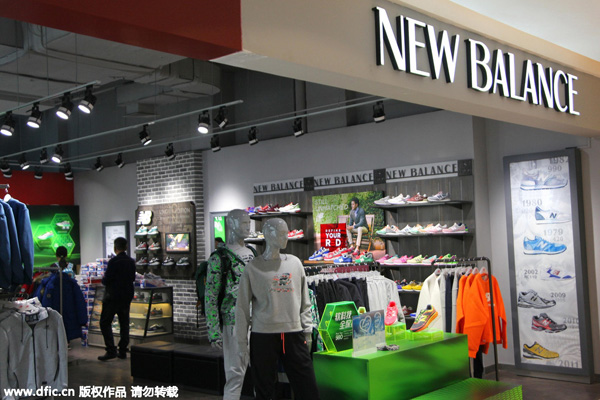 A customer shops at a sportswear store of New Balance in Zhengzhou city, central China's Henan province, March 15, 2015. [Photo/IC]
Xinbailun Trade (China) Co, the sales company for US shoe maker New Balance in China, must stop infringing the trademark rights of Guangdong businessman Zhou Lelun and pay him 98 million yuan ($15.79 million) in compensation, Guangzhou Intermediate People's Court ruled on April 24.
The case began in July 2013, when Zhou argued that Shanghai-based Xinbailun Co had long used the mark "Xinbailun", his trademark for a clothing company, to advertise and sell shoes, which infringed on his trademark rights for "Xinbailun" and "Bailun".
Xinbailun Co, which was set up in 2006, rebutted that New Balance began to use "Xinbailun" as a mark to sell shoes in China in 2003, when the trademark "Bailun" was not yet used commercially.
It added that "Xinbailun" was used as the name of the company and did not infringe on the plaintiff's trademark rights.
"Xin" is the Chinese translation of "New" while "bailun" is pronounced similarly to "Balance".
Zhou applied to register the trademark "Xinbailun" in 2004 and New Balance filed an objection against the registration in 2007.
They said that the trademark "Xinbailun" imitated the company's "NEWBALANCE" trademark and was similar to its "NEW BALANCE" trademark.
The Trademark Office of the State Administration for Industry and Commerce made a verdict in 2011 that reasons for the objection were untenable and it should be rejected.
Zhou said the Shanghai-based company marked its products with "Xinbailun New Balance" in its online shops at Tmall.com and JD.com, two leading e-commerce providers in China, as well as some promotion events, which misled consumers.
He said Xinbailun Co took away the connection between him and the trademark "Xinbailun" and made it difficult for him and Guangzhou Xingjia Clothing Co, which was authorized to use the trademark for shoes sales, to increase the trademark value.
The defendant argued that it had widely used "Xinbailun" as the name and mark of its products before the plaintiff applied to register the trademark, so it was a rushed registration and the court should not support Zhou's claim for compensation.
But the court in Guangzhou ruled that it was dishonest that Xinbailun Co only used "Xinbailun" instead of the company's full name when marketing and promoting its shoes.
It added the plaintiff had proved that when people search "Bailun" and "Xinbailun" via Baidu and Taobao, they would find most of the links were closely related to products of Xinbailun Co, which made consumers think shoes with the two trademarks were from Xinbailun Co.