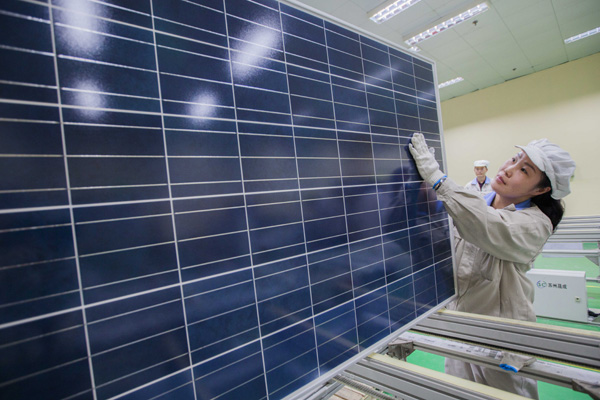 A solar panel production line in Lianyungang, Jiangsu province. [Photo/China Daily]
Complaint alleges PV firms circumvent pact by using products from other locations
Producers of solar panels from the Chinese mainland may face serious penalties or tougher regulations in Europe, where local competitors have accused them of using products made in other Asian locations to avoid import duties, industry insiders said on Tuesday.
The complaint, which has been filed with the European Union, is likely to trigger a wider trade dispute and affect the profits of Chinese solar producers, experts said.
The China Chamber of Commerce for Import and Export of Machinery and Electronic Products did not immediately comment.
But Chen Jie, director of the solar energy center of Shenhua's National Institute of Clean and Low Carbon Energy, told China Daily that the EU may cut the annual import quota for Chinese solar cells and modules if it finds the producers at fault after an investigation.
"It could also impose heavy anti-dumping duties on the Chinese products concerned in a repeat of previous disputes, but the final sanctions depend on the market demand for solar products in Europe," he said.
"Given current economic conditions, the EU is considering cutting back subsidies for the solar panel industry. As a result, it may impose a large fine on Chinese firms to compensate solar companies in Europe," said Chen, who is also the director of the Beijing Engineering Research Center for Nanostructured Thin Film Solar Cells.
He said that China's solar industry needs a consolidation process that will produce large, strong firms.
EU ProSun, a group that represents European producers including Germany-based SolarWorld AG, said in a statement that mainland-based solar companies have bypassed European import measures by using Taiwan and Malaysia as springboards to avoid massive tax "amounting to hundreds of millions of euros in import duties".
"Up to 30 percent of Chinese solar imports bypass EU import measures through fraudulent circumvention," Milan Nitzschke, president of EU ProSun and spokesman for SolarWorld, said in a statement.
An investigation could result in anti-dumping and countervailing duties on all solar imports from Taiwan and Malaysia, if exporters from those locations cannot clearly demonstrate that the solar photovoltaic modules or cells in question were produced locally, according to the statement.