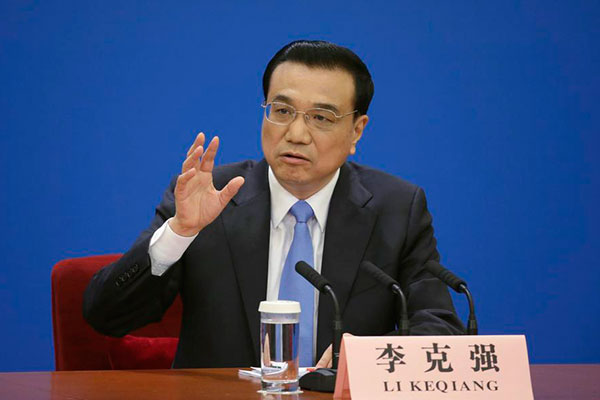 China's Premier Li Keqiang gestures as he speaks during the annual news conference following the closing session of the National People's Congress (NPC), at the Great Hall of the People in Beijing March 15, 2015. [Photo/Agencies]
BEIJING - China has the confidence and capability to promote the healthy development of its capital market and provide a sound financial environment for economic growth, Premier Li Keqiang said.
"China is and will face various challenges and risks during economic expansion. We will never take them lightly," Li told a conference on the current economic situation on Thursday, according to a cabinet statement released Friday.
"We are confident that the government can ward off any regional or systemic risks in the economy and ensure we have an open, transparent, stable and healthy capital market," said the premier.
Li's remarks came as China is trying to arrest a stock market nosedive that devoured huge amounts of wealth in a three-week plunge.
For the premier, the country's economic fundamentals are sound. Since the second quarter of 2015, the Chinese economy has been operating steadily with signs of improvement, according to Li.
"Economic vitality is increasing and market confidence is rebounding," he said.
However, the premier warned that the foundation of the economy is not yet solid and external uncertainties are increasing.
"Therefore, we need to make more efforts to underpin economic growth," said Li.
He reiterated the government's determination to overhaul economic structure, cut red tape, encourage entrepreneurship and innovation, improve people's livelihood, and boost public services.