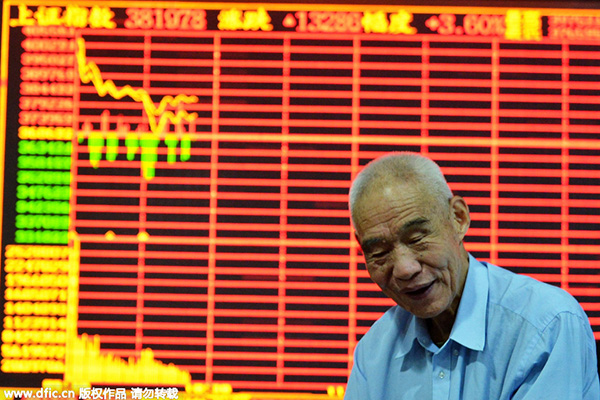 A Chinese investor reacts in front of a display showing prices of shares (red for price rising and green for price falling) at a stock brokerage house in Hangzhou city, East China's Zhejiang province, July 6, 2015. [Photo/IC]
BEIJING - China is capable and confident it can maintain the capital market stable and sound, said a commentary of People's Daily, the flagship newspaper of the Communist Party of China (CPC).
Since mid-June, the benchmark Shanghai Composite Index has tumbled by 29 percent in three weeks, including a 12 percent loss last week. For the Shenzhen Component Index and the ChiNext, the start-up board, the plunges were even deeper.
"It is an urgent task to bring the A share market back to a rational track, as volatility of the market is detrimental to the sound and stable development of the capital market," said the article.
China has sufficient tools to bring the stock market back to sound footing as the economy keeps improving and the liquidity remains abundant, said the newspaper.
Over the weekend, the Chinese government unveiled an unprecedented raft of emergency and supportive measures to stabilize market sentiment.
China Securities Finance Co Ltd (CSF) said Sunday night that it would raise funds through multiple channels and the People's Bank of China, the central bank, will assist in accessing more liquidity.
China's 21 major securities brokers announced Saturday they would spend no less than 120 billion yuan ($19.62 billion), or 15 percent of their total net assets, on exchange traded funds (ETF) that track the performance of blue chip stocks, to arrest the market slump.
In addition, 28 Chinese companies that had obtained permission from the securities watchdog for initial public offerings (IPOs) announced Saturday evening they would postpone follow-up issue of shares.
Firm confidence instead of panic should be held for China's capital market as market risks are within control and fragile market sentiment will be reversed, said the paper.
As China aims for medium-high growth, continued efforts should be made to ensure a long and stable development of its capital market, said the article.