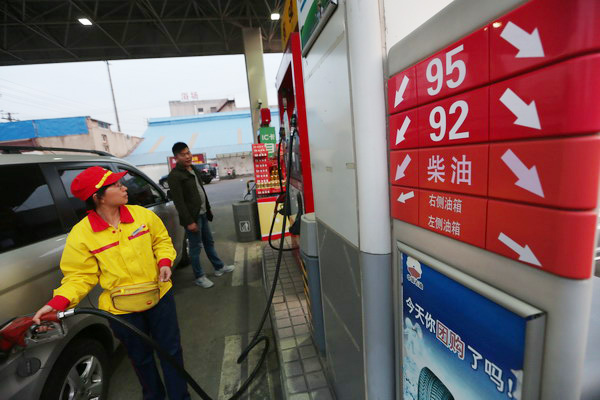 A PetroChina gas station in Nantong, Jiangsu province. Xu Congjun / For China Daily
PetroChina Co has blamed the plunge in global oil prices after reporting an 82 percent drop in net profit to 6.15 billion yuan ($1 billion) in the first quarter compared to the same period last year.
The State-owned energy giant said on Monday the results were "better-than-expected" as it struggles against a background of falling crude prices across the world.
As global demand dips, PetroChina's average oil price fell 51.2 percent year-on-year to $48.87 a barrel for the first three months.
If prices continue to stay low, the country's biggest energy producer would suffer a significant drop in half-year profit compared to the same period last year.
"In the first quarter of 2015, the world economy recovered slowly and geopolitics continued to be turbulent," PetroChina said late on Monday in a statement to the Hong Kong Stock Exchange, where it is listed.
A slowdown in China's economic growth has also hit the company, which is now reducing costs and increasing efficiency to compete with the slump in global oil demand.
Turnover at PetroChina dipped 22.4 percent year-on-year to 410.36 billion yuan in the first quarter, according to the statement.
"International crude oil prices have significantly declined since the second half of 2014 and fluctuated at a low level in the first quarter of 2015," PetroChina chairman Zhou Jiping said in the statement.
In the first quarter, the company produced 239.4 million barrels of crude, up 3.3 percent year-on-year, and 850.8 billion cubic feet of natural gas, an increase of 7.7 percent.
Other key figures showed that the exploration and production division of the company suffered a 67.2 percent net profit decline to 17.30 billion yuan for the first quarter.
The refining unit, which was seriously affected by the fall in domestic retail oil prices, posted a loss of 3.79 billion yuan during the first three months.
But PetroChina is not the only major energy company to suffer from falling crude prices. CNOOC Ltd, China's biggest offshore oil and gas developer, reported a 39.9 percent fall in revenue during the first quarter. On Friday, the company said revenue dropped to 35.54 billion yuan in the first three months compared to the same period last year.
Asia's largest refiner Sinopec Group last month issued a profit warning for the first quarter when the company announced a 29.7 percent profit decline in 2014 compared with the previous year.