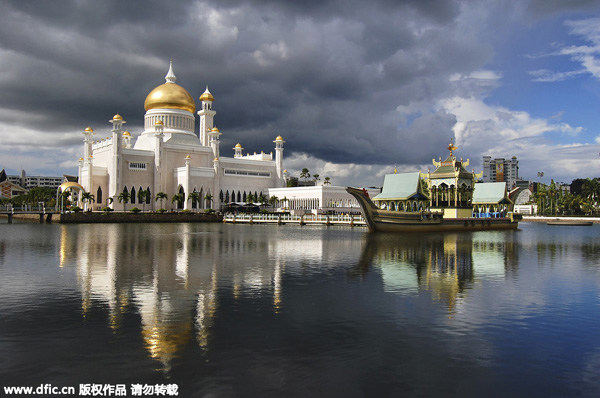 Sultan Omar Ali Saifuddin Mosque in Brunei. [Photo/IC]
BANDAR SERI BEGAWAN - Brunei is an integral part in the building of the 21st Century Maritime Silk Road which matches very well with Brunei's economic diversification strategy and "Version 2035", Chinese ambassador Yang Jiang said here on Wednesday.
In a news briefing at the envoy's residence, Yang told local media that China and Brunei have enjoyed good relations and the two sides should seize the opportunity and give impetus to the Hengyi Comprehensive Refinery Project, Huludao Steel Pipe Factory Project and other infrastructure projects like highway and bridge.
She said the two sides should steadily translate the "Guangxi- Brunei Economic Corridor" into reality. Cooperation in agriculture, halal food processing, biological medicine, shipping,tourism and other fields, as well as cultural and people-to-people exchanges should be further enhanced.
"China will encourage more enterprises of competitiveness and excellence to invest in Brunei, and take part in the infrastructure construction of the region," said the ambassador.
Yang stressed that " China will also support the development of the 'East ASEAN Growth Area' with Brunei as its hub".
"I am confident that the 21st Century Maritime Silk Road will bring more opportunities for further cooperation between China and Brunei. It will be helpful to Brunei's economic diversification, and will promote mutual benefits and common development of our two countries," said the ambassador.
With Southeast Asia being one of the focal points of China's belt and road Initiative, she said, ASEAN countries are prioritized on the Maritime Silk Road and will be the beneficiary of early harvest. Thanks to the hard work of both sides over the years, the China-ASEAN exchanges and cooperation are going deeper and further, laying a very good foundation. The Initiative will provide new areas of combination for the development strategies of China and ASEAN countries, presenting a broader prospect for future cooperation.
At present, the ambassador said, China and ASEAN are consulting on upgrading the Free Trade Zone, and the negotiation on the Regional Comprehensive Economic Partnership (RCEP) between China, ASEAN and other partners is progressing.
"Progress has been made in China-Laos and China-Vietnam Cross- border Economic Cooperation Zones, High-speed Rail Project between China and Laos, High-speed Rail Project in Thailand, Navigation Channel Improvement Project of the Lancang-Mekong River (Phase II). The China-Myanmar gas pipeline has been put in use. China-Malaysia Qinzhou Industrial Park and Malaysia-China Kuantan Industrial Park is making headways. China signed with Indonesia the Comprehensive Cooperation Agreement on Industrial Parks. Various maritime cooperation projects are being conducted between China and Indonesia, China and Thailand, China and Malaysia. Projects supported by China-ASEAN Maritime Cooperation Fund are also moving forward steadily", said ambassador Yang.
The Asian Infrastructure Investment Bank (AIIB) and the Silk Road Fund are two major financial platforms initiated by China for the Belt and Road Initiative. AIIB and the Silk Road Fund, independent from and complementary to each other, will operate under their respective charter in an open and transparent manner. They will be the financial backbone for the Belt and Road cooperation, the ambassador added.