China launches three more free trade zones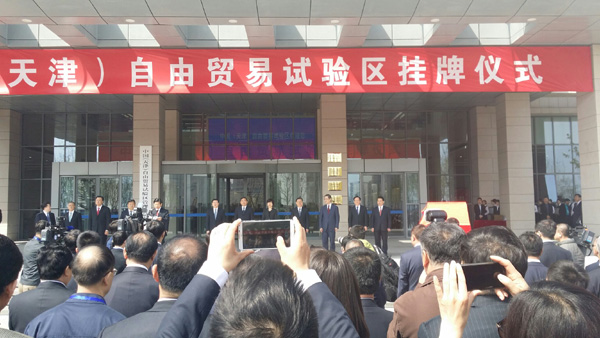 China (Tianjin) Pilot Free Trade Zone is launched on April 21, 2015. [Photo / Zhang Min of chinadaily.com.cn]
BEIJING - Operations formally kicked off Tuesday at three new free trade zones (FTZ), as China opens itself wider to the outside world.
The three new zones come 18 months after the first FTZ was unveiled in the financial hub of Shanghai, which was designed to showcase efforts to streamline the overloaded administrative approval system and encourage innovation and internationalization.
Officials expect the three new FTZs -- in Tianjin, Guangdong and Fujian -- will boost economic reform, promote trade and facilitate investment in new areas, as the world's second largest economy moves away from its unsustainable export-dependent model.
Some businesses have already felt the efficiency of the new zones.
Liu Qiya, the chief financial official with Tuwei Tongli Electrical Technology based in Xiamen, an open coastal city of Fujian, said his company was granted an operational license for the zone just three days after the application was submitted. The same procedure in other parts of the province could take weeks.
According to a detailed plan released on Monday, the new zones will be based on the Shanghai FTZ but with a focus on the potential of their geographical locations.
By its first anniversary, the Shanghai zone had seen nearly 12,000 registered enterprises lured by a better trade and investment environment.
The Tianjin zone aims to better integrate the northern municipality with Beijing and Hebei province. It will prioritize modern service industries, including shipping, culture and equipment manufacturing.
The Guangdong zone will deepen economic cooperation between the mainland and the neighboring special administrative regions of Hong Kong and Macao. It will have three bases in the cities of Guangzhou, Shenzhen and Zhuhai.
The Fujian zone will focus on developing economic cooperation between the mainland and Taiwan. It will cover three areas in Xiamen, Fuzhou and Pingtan, a new industrial park targeting investment from Taiwan.
The Shanghai zone, which has been more than quadrupled in size since it was established, will continue to strive for "the greatest openness" to facilitate investment and trade with currency convertibility and a sound legal environment. It will also further open its service and manufacturing industries.
All zones must adhere to the negative list, which details 122 prohibited or restricted areas for foreign investment, ranging from Internet news service, production of radio and television programs to non-ferrous metal mining. This number has been reduced from 139.
Foreign investors will be subject to the same rules and regulations for new investment as domestic firms.
Experts believe that these fresh zones are strategically important for the "belt and road" initiative, which aims to better connect Asia, Europe and Africa, as a way to boost investment and consumption.