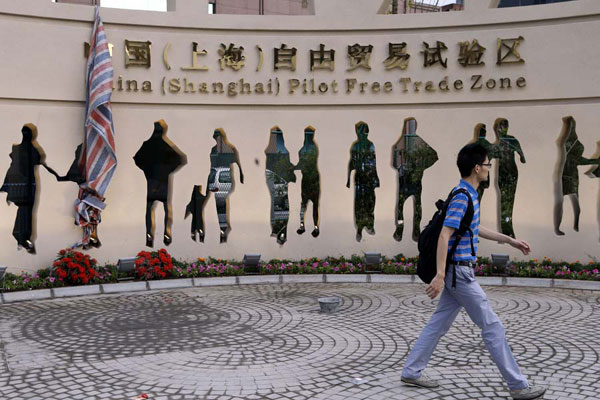 The name plate of the China (Shanghai) Pilot Free Trade Zone on a gate of the Waigaoqiao free trade zone in Shanghai. [Zhao Yun / For China Daily]
The Party leadrship officially approved a plan for pilot free trade zones in Guangdong and Fujian provinces and Tianjin municipality at a meeting on Tuesday. A plan to further reform and open up the China (Shanghai) Pilot Free Trade Zone was also proposed during the meeting. Comments:
China's four FTZs - the Shanghai FTZ and the three newly approved ones - are an important indicator of the country's promotion of mature economic and financial institutions. Of course, the latest move is just the beginning as many more coastal and inland provinces are also applying to have pilot free trade zones. It is becoming increasingly clear that the central leadership has made comprehensively deepening reform one of its top priorities.
The Global Times, March 25
Establishing a pilot FTZ is more like a stress test for the country's ongoing economic reform. The test results will prompt all departments concerned to adopt a more administratively efficient managerial mechanism.
Li Wenfu, a professor with Xiamen University, March 25
Institutional innovation is one of the main criteria for evaluating the establishment of the Tianjin, Guangdong and Fujian FTZs, which are expected to generate notable cluster effects on the basis of their respective leading industries and available surrounding resources. Besides, all four FTZs may have some benign effects on the allocation of resources nationwide.
Bai Ming, a researcher with the Chinese Academy of International Trade and Economic Cooperation, March 25