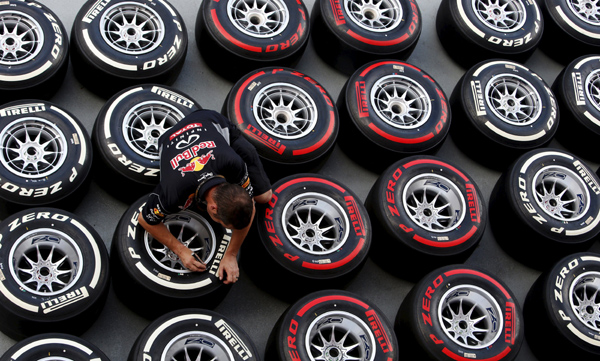 China National Chemical Corp's $7.7 billion acquisition of a controlling stake in Pirelli will certainly benefit the world's fifth-largest tiremaker's operations in the Chinese market, according to Giuseppe Cattaneo, chief executive of Pirelli Asia Pacific. [Photo/Agencies]
Asia Pacific CEO plans to add another 1,500 retail outlets by 2017
China National Chemical Corp's 7.1 billion euro ($7.7 billion) acquisition of a controlling stake in Pirelli will certainly benefit the world's fifth-largest tiremaker's operations in the Chinese market, according to Giuseppe Cattaneo, chief executive of Pirelli Asia Pacific.
"The acquisition was based on Pirelli's already high profitability in the Chinese market over the years. It will allow us to expand our presence in China by diversifying our range of products and being able to work with more local business partners," said Cattaneo.
"The deal has yet to be finalized, but in the long term it will give us more opportunities, especially in the country's industrial tire segment."
The takeover will be made by the tire-making arm of ChemChina, China National Tire & Rubber Co, which will initially buy a 26.2 percent stake from Pirelli's top shareholder Camfin for 15 euros per share.
The 2015 Formula One World Championship continues this weekend with round three, the Chinese Grand Prix in Shanghai, with Pirelli in pole position as the sport's official tire supplier.
Cattaneo said the tiremaker has seen fast growth across the Asia-Pacific region, with sales increasing 16 percent year-on-year in 2014-the result of consolidated partnerships with leading European premium car manufacturers, the success of flagship products, and a strong commercial presence in areas with a greater high-end car sales.
Cattaneo attributed Pirelli's fast growth in China, particularly, to two key operational priorities-maintaining close cooperation with original equipment manufacturers and good relationships with retailers.
"As a growing number of high-end vehicles have entered China, we have built up close cooperation with premium carmakers, normally joint-venture producers, over the past few years. It has given us the opportunity to work with the world's top car producers here," he said.
Pirelli has also continued to work hard at creating opportunities with Chinese vehicle makers, including those in the industrial market, supplying tires for trucks and agricultural vehicles and buses, he said.
After entering the country in 2005, Pirelli runs three factories in China-two producing tires for the domestic car market and one for industrial products, in the city of Yanzhou in Shandong province.