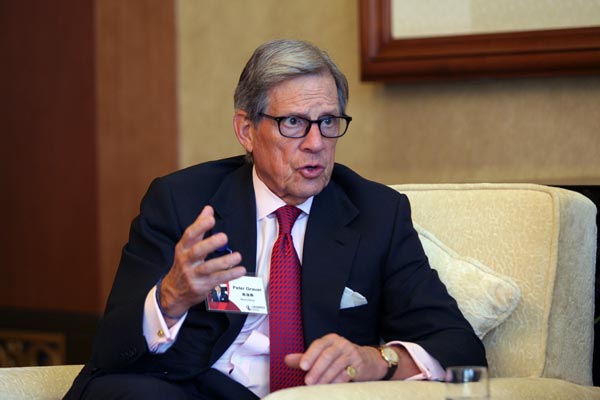 Peter Grauer, chairman of Bloomberg LP. [Photo/China Daily]
Global news, information service firm to add more local talent, says top official
Global financial information service provider Bloomberg LP is planning to ramp up its hiring in China this year, as part of its efforts to further localize its operations in the country, a top official said on Wednesday.
The New York-based privately owned company will hire more news professionals in China, especially those who can write in the local language about what is going on in the markets, said Peter Grauer, the company chairman, in an interview with China Daily.
"We will also be in a position to translate stories from outside the country that are of interest to the local markets and the local economy as well," he said, adding that the company was keen on sharing the results of the capital market development in China amid accelerating economic reforms.
"Everybody wants to know what is going on in China, especially when the government has identified a new economic approach by pushing forward the systematic reforms.
"We want to provide information in such a manner that Bloomberg is seen as a window to what is going on within China and to highlight the nation's growing importance in global economic activities," said Grauer.
Bloomberg believes that China can achieve a 7 percent GDP growth this year as the government is committed to structural changes for the long-term well-being of the country, while sacrificing some growth speed.
"There seems to be a pretty strong degree of pragmatism that the country needs to go through a little bit of belt-tightening for the long-term growth pattern that the current leadership wants to accomplish. And I find that a rewarding sense of what is going on in the country, as we go forward," he said.
"What is happening with this administration in China is very positive for the global economy," Grauer said.