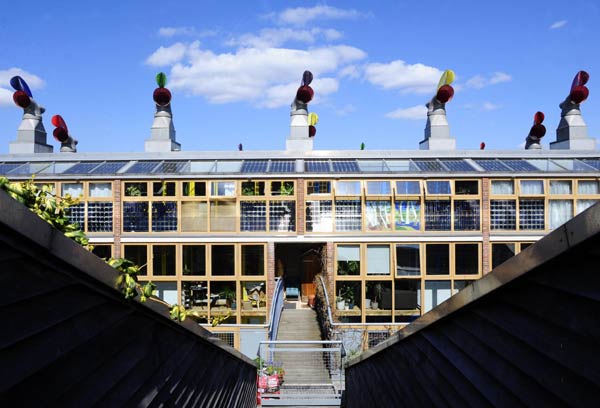 Beddington Zero Energy Development community in Hackbridge, London, England, is designed to create zero carbon emissions. It is an environmentally friendly housing development.[Photo/Xinhua]
London's strategy to become the world's first city to create an ultra-low emission zone is a valuable idea for Beijing to consider.
The strategy includes measures on cooperation with vehicle producers and other industries to invest, upgrade technology and reduce emissions.
"The world's first ultra-low emission zone will come into force on Sept 7, 2020, following a consultation on the proposal earlier this year," Mayor Boris Johnson confirmed on Thursday.
It will require vehicles traveling in the congestion charge zone of central London to meet new emission standards at all times or pay a daily fee.
The zone is a feasible way to improve air quality, not only in London but in cities around the world. While not every city in the world can copy London's format, the city's experience will be valuable because air quality has an impact on the health of every human being.
One of the most important factors in achieving the green plan is that the government needs to fund and support vehicle companies and drivers. It needs many strategies to accomplish those goals.
Take the iconic London taxis as an example. Johnson has talked with Zhejiang Geely Holding Group Co Ltd, which bought the London Taxi Co in 2013, about technology upgrading. Geely announced on Thursday that it will invest 250 million pounds ($372 million) to build a new facility for the London Taxi Co in Coventry as it prepares for the next-generation, ultra-low emission vehicles. To encourage this move, British Prime Minister David Cameron and Johnson visited the London Taxi Co together and announced the new decision.
An extra 25 million pounds from the British government will be used to provide grants to help taxi drivers cover the cost of upgrading to a greener vehicle. This will be in addition to the 40 million pounds already committed by the mayor to assist taxi drivers whose vehicles would be affected by tighter age limits to retire the oldest, most polluting taxis.