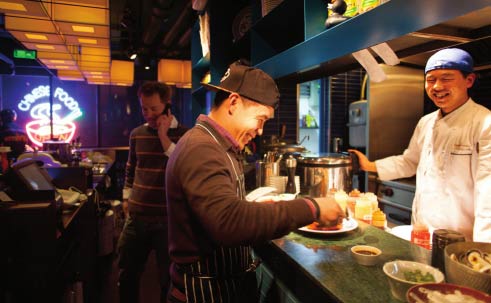 New Yorker Fung Lam (center) and business partner David Rossi also double as waiters. [GAO ERQIANG/CHINA DAILY]
Getting an alcohol license is easy in Shanghai but finding a premium location can be a battle, as the co-founders of Fortune Cookie discovered. It claims to be the first and only American-Chinese food restaurant in China.
"It's way different here. You could spend up to half a million dollars to get a liquor license in New York, whereas here it costs next to nothing," said David Rossi, 34, from California.
Picking Shanghai was a nobrainer for Rossi and his business partner, American-Chinese restaurateur Fung Lam, whose family has 15 restaurants in the US.
They opened Fortune Cookie, their first project, in July 2013 in the city's former French Concession, where expats, bars and international restaurants abound, and business has been booming. They open every day.
"It takes time to find the right spot and get a business license," said Fung, 32. "You can get a restaurant built here in six weeks, but the paperwork takes time."
"The problem is that there aren't many streets here where you want to open up on, and they are very high in demand from restaurateurs. This creates a bubble and pushes up rents," he said. "Doing human resources in Chinese can also be a headache."
The two came to China with a business model based on the kind of operation Fung's grandfather ran in Brooklyn in the 1960s. The family business has since shifted to buffet-style eateries seating 300-500 people, Fung said.
Fortune Cookie has found its niche by offering friendly US-style service, dishes that are familiar to American expats but a novelty for Chinese, and takeaway boxes that are commonplace in New York, where Fung was born, but new to the mainland.
The dark wooden décor, matching venetian blinds and sofa booths exude American coziness, while the box-shaped lights and shelves visually align with the Chinese takeout box theme.
The ingredients are fresh and the two owners double as waiters. Even with customers lining up, Rossi found time to go through the menu and tick all the gluten-free choices. Top-sellers include Orange Chicken, Beef and Broccoli, Brooklyn Kung Po Chicken, Moo Shu Pork, Tsingtao Can Chicken and Mapo Tofu Fries with Cheese. Mains cost about $10.