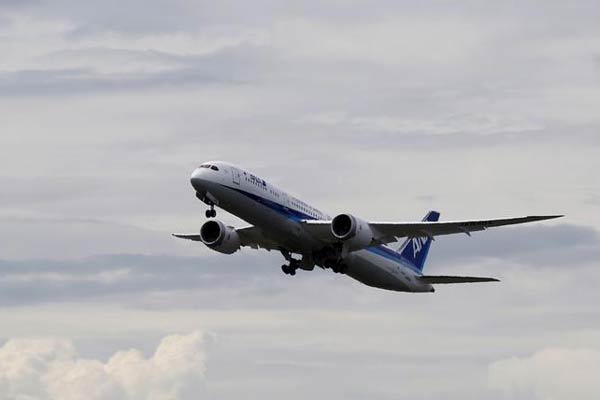 An All Nippon Airways' (ANA) Boeing 787-9 Dreamliner airplane flies after a ceremony at Haneda airport in Tokyo August 4, 2014. [Photo/Agencies]
Hainan Airlines Co Ltd, the fourth-largest carrier in China, said on Wednesday that it is purchasing 30 Boeing 787-9 jets to expand its international routes and tap the growing demand for overseas travel in China.
The total cost of the new jets, which will be delivered before 2021, is expected to be about $7.7 billion, based on catalog prices. The carrier, however, said that the total purchase price would be lower than the estimates as Boeing is offering it discounts. "The jet purchase will improve our capacity and competitiveness," Hainan Airlines said in a statement.
The Boeing 787-9 is a stretched version of Boeing's popular 787 jets that have carbon-composite fuselage and improved fuel efficiency. The long-range, mid-size widebody, twin-engine jet has a passenger capacity of 280.
The new jets are necessary for Hainan Airlines to expand its network in the United States, especially in the eastern and middle parts of the country, Wang Yingming, executive vice-president of HNA Group, told China Daily recently.
The carrier has already purchased 10 Boeing 787-8 jets and operates eight of them currently. The remaining two jets are expected to be delivered later this year. The company said its current fleet is not enough for further international expansion and it needed to add more widebody aircraft.
"The fleet of 10 Boeing 787 jets can support five to six destinations in North America, but our long term plan is to have eight destinations there," Wang said.
During the first half of this year, Hainan Airlines plans to launch four international routes to the US and Europe, said Hu Yi, director of the carrier's marketing department.
The Boeing 787 jets will be used on two new routes, including Beijing to San Jose in the US and Shanghai to Boston, Hu said.
Hainan Airlines currently uses all its Boeing 787s for flights in the North American market, where some cities are still seen as niche markets. The addition of the new Boeing aircraft will enhance the carrier's image in the international market, industry experts said.
Zeng Xu, an aviation analyst from Industrial Securities, said: "The carrier needs to be present in more segments and have a differential competitive strategy, as the good market resources have already been taken by other large carriers."
As a latecomer in the market, Hainan Airlines has found it difficult to get slots in busy international hubs and hence chosen to cultivate new destinations, such as Seattle.
The Boeing 787 jets are suitable for point-to-point routes and their addition will help boost the carrier's profitability, Zeng said.