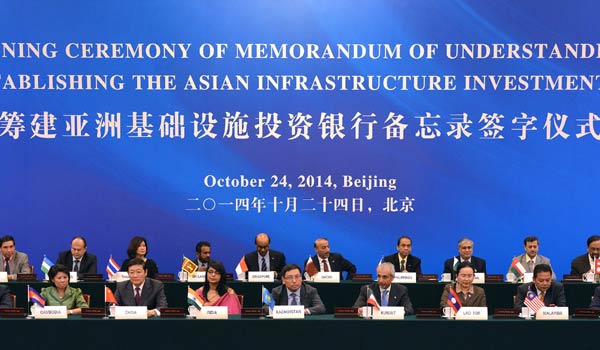 The signing ceremony of memorandum of understanding on establishing the Asian Infrastructure Investment Bank (AIIB) is held in Beijing, Oct 24 2014. [Photo/Xinhua]
The decision by several European nations to join the Asian Infrastructure Investment Bank will create more opportunities and a win-win formula for the two continents.
Britain, Germany, France, Italy, Luxembourg and Switzerland have agreed to join the China-led international development bank, regardless of pressure from the United States.
The decisions are in these countries' national interests as they want to catch the development opportunities in the world's fastest-growing markets rather than remain outside.
With an expected initial subscribed capital of $50 billion, the AIIB will be an international financial institution to fund infrastructure projects in Asia and is expected to be formally established by the end of this year.
The infrastructure markets in China, India and other Asian countries are huge and may offer opportunities for a few decades.
The AIIB aims to use a variety of support measures - loans, equity investment and guarantees - to boost investment in many sectors including transportation, energy, telecommunications, agriculture and urban development.
While the global economy is gradually recovering, European countries are still struggling to boost economic growth, create jobs and move forward smoothly. Europe's economic stability is being scrutinized by international investors as well as financial and economic analysts.
Joining the AIIB at the founding stage will give these European countries a greater voice and bigger share of fast-growing markets, deepen cooperation with Asian partners, especially China, and lower barriers to their participation in the Asian markets.
Better ties with Asian countries will also reduce the political risks in their investments.
A spokeswoman for the European Commission has endorsed member states' participation in the AIIB as a way of tackling global investment needs and as an opportunity for European Union companies.
For the AIIB, the participation of European countries as major economic powers will strengthen its fundraising ability and make it more internationalized, representative and inclusive.
These European countries, which have rich financial experience, will work to ensure the new bank follows high standards and practices in terms of governance, safeguards, debt and procurement policies.
The AIIB can draw experience from these countries and other multilateral development banks and avoid their mistakes so as to be a transparent and efficient institution.
China is glad to see more countries join the AIIB as founding members, and the bank's diversified membership will boost the regional economy and promote professionalism and efficiency in investment.
However, since Britain became the first major Western country to sign up as a prospective founding member of the AIIB, the US has been pressuring its allies, including Australia, South Korea and Japan, not to join the AIIB.
The US sees the AIIB as a rival to the World Bank and Asian Development Bank, where the US wields decisive influence. But actually the AIIB will not challenge these lenders' roles, as it will focus on infrastructure upgrading in Asian countries, rather than poverty reduction.
In the current multipolar world, most countries will not slip back into Cold War thinking, which is not good for world peace and economic development.
As an open multilateral financial institution, the AIIB's goal is to improve infrastructure in many nations while working closely with other countries and institutions to promote stable global economic development, which is beneficial to all involved.