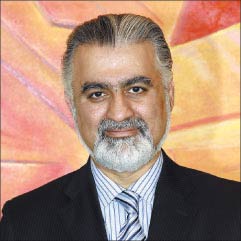 Farzam Kamalabadi, president and chairman of the board, Future Trends Group.
Strategist, investor says benefits of landmark initiatives would be felt throughout the globe
European countries, as well as other nations, should embrace China's national strategy of reviving the ancient Silk Road, as they could also benefit from the projects, initiatives and exchanges it creates, said the world-renowned American strategist and investor Farzam Kamalabadi.
The Persian-American, who has lived in Shanghai since 1992, said that the "One Belt, One Road" initiatives put forward by Chinese President Xi Jinping bring numerous opportunities for developing countries and European ones too.
The Silk Road Economic Belt and the 21st Century Maritime Silk Road, as the initiatives are officially termed, are a land-based route from China via Central Asia and Russia to Europe, and a strategic path through the Strait of Malacca to India, the Middle East and East Africa. The initiatives began to take shape in 2014 with a focus on infrastructure.
"With their advanced technology, capital and experience in management and quality, European countries could cooperate with China in implementing the sweeping initiatives," Kamalabadi said.
"If the Western countries ignore or underutilize China's proactive initiatives, they will lose another decade if not more."
As one of the very few foreigners widely recognized by both the Chinese media and government leadership, Kamalabadi is deemed to be a true "China Hand" for his wide and deep knowledge of the country. He reads and writes Chinese, including writing quality brush calligraphy. Moreover, he speaks Mandarin as well as a number of other dialects such as Cantonese.
In 1993, he established the Future Trends International (Group) Corporation, a China-specialist US corporation engaged in investment and trade, project implementation, media relations, and government lobbying.
Eight years ago, Kamalabadi put forward the proposals of "China-Central Asia-Middle East economic corridor" and "China-Central Asia-Middle East cultural passage", suggesting that the Chinese government should revive the ancient Silk Road.
"If China could fully and smoothly implement the 'One Belt, One Road' initiatives, about 70 to 80 percent of the world's population will benefit directly and the whole world order will be better united," he said. "It's a great win-win strategy."
According to Kamalabadi, Western countries should break the ideological barrier, overcome traditional fears and act positively to assist with and participate in China's process of emergence into the world community and various positive initiatives such as "One Belt, One Road".
With decades of reform and development maturing, China has become a safe and ideal business partner with trillions of dollars in foreign reserves, advanced technology in many fields, and huge capacity in manufacturing and innovation, he said.