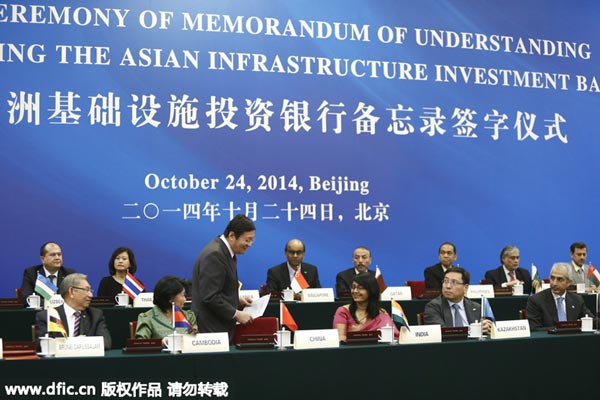 China's Minister of Finance Lou Jiwei, front third left, and other representatives of founding member countries attend the signing ceremony of memorandum of understanding on establishing the Asian Infrastructure Investment Bank (AIIB) in Beijing, Oct 24 2014. [Photo/IC] 
SYDNEY -- Australia will join the Asian Infrastructure Investment Bank and potentially invest A$3 billion ($2.3 billion), local media reported on Friday. The news follows Australia initially refusing to join the bank as a founding member citing concerns of governance.
The Sydney Morning Herald said the National Security Committee has cleared the way for the investment, which should lead to a formal decision to sign up to the Chinese initiative when the full cabinet meets on Monday.
The newspaper said some government sources have suggested Finance Minister Mathias Cormann could sign up when he attends the Boao forum in China late next week, subject to cabinet approval, but others thought that timeframe was too soon.
Last Saturday, Prime Minister Tony Abbott said a decision on whether to join the AIIB would be made soon.
Australia's decision on whether to become a founding member of the institution risks upsetting either key strategic allies the United States and Japan, or top trading partner China.
Xinhua contributed to this story.
Related: Luxembourg confirms to become founding member of AIIB
Luxembourg has already submitted its candidacy to become a prospective founding member of the Asian Investment Bank for Infrastructure (AIIB), the Finance Ministry of Luxembourg confirmed to Xinhua on Wednesday.
"With its adherence to the AIIB initiative, Luxembourg, as an important international financial center hosting an increasing number of Asian banks and a facilitator of investments between Europe and Asia, is ready to further develop its role as bridge-builder and gateway between the two continents," commented the minister Pierre Gramegna, in an interview by Xinhua.
According to the minister, Luxembourg will work hard with other founding members to ensure that the AIIB will meet the highest and most stringent standards in terms of good governance, transparent lending policies, social and environmental safeguards as well as state-of-the-art procurement guidelines.
Luxembourg is a reliable partner in international development cooperation and would like to further extend its commitment towards multilateral aid mechanisms, in particular in the Asia-Pacific region, he added.
According to a statement released on Tuesday, France, Germany and Italy intend "to become founding members of the Asian Infrastructure Investment Bank."