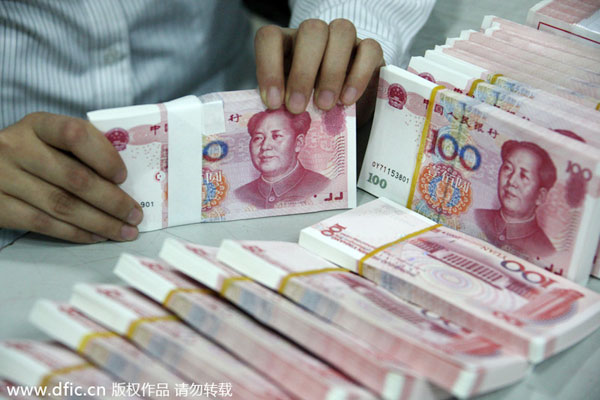 A clerk counts yuan bills at a bank in Huaibei, East China's Anhui province. [Photo/IC]
The yuan's internationalization is accelerating and China's "One Belt, One Road" initiatives will stimulate overseas demand for the currency, top Chinese bankers said on Thursday.
Chen Siqing, president of Bank of China Ltd, said at a media briefing in Beijing that the level of internationalization of the renminbi increased rapidly last year and the currency assumed a more prominent role in the capital markets.
The Offshore Renminbi Index, a tracker designed by BOC to reflect the currency's presence in global trade and investment, climbed 29 basis points from a year earlier to 1.2 percent during the fourth quarter of 2014.
As of Dec 31, outstanding offshore yuan deposits amounted to 2.78 trillion yuan ($449 billion), up about 35 percent from the beginning of 2014. Outstanding offshore yuan-denominated bonds rose 44 percent to 481.6 billion yuan.
The value of foreign exchange transactions involving the yuan increased by 80 percent year-on-year to $5.5 trillion in 2014, accounting for 3.6 percent of all foreign exchange transactions.
According to BOC estimates, yuan-denominated assets in the foreign reserves of all countries now account for 0.1 to 0.3 percent of the total. That represents a notable step forward for China, considering that the percentage was almost zero three years ago, said Cheng Jun, general manager of the bank's global trade services department.
Cheng said the internationalization of the yuan will deepen further as the country is promoting the Silk Road Economic Belt and the 21st Century Maritime Silk Road.
"We're trying hard to add the 'renminbi factor' to the 'One Belt, One Road' initiatives in terms of investment, labor, contract projects, trade and currency exchange with countries along the belt and road. The initiatives and the renminbi's globalization will be mutually reinforcing," he said.
Further opening of the capital account this year will drive the internationalization of the renminbi, and ongoing declines in commodity prices will give China more legitimacy when calling for those prices to be yuan-denominated, he said.
China's foreign direct investment, more of it representing companies' long-term overseas projects, is expected to continually increase this year.
"It is a positive sign reflecting China's deepened opening of the capital account," said Zhao Yang, chief economist in China at Nomura Securities.
"The launch of the Asia Infrastructure Investment Bank and its investment projects will expand the global use of the Chinese currency, which means the yuan's internationalization process will speed up," Zhao said.
Contact the writers at jiangxueqing@chinadaily.com.cn and chenjia1@chinadaily.com.cn