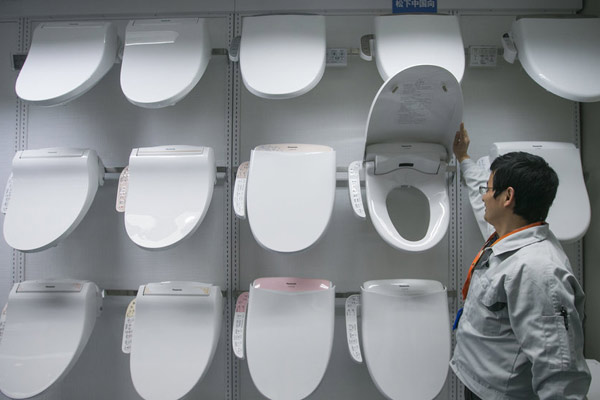 A staff worker displays a model of the smart toilet lids in Hangzhou's manufacturing district of Xiasha, March 9, 2015.[Photo/CFP]
The irony of Chinese consumers going crazy for made-in-China, high-tech toilet seats being sold in Japan has led to bemusement among domestic sanitary players, with some trying to seize the opportunity nonethless.
During the Chinese Lunar New Year holiday last month, Chinese tourists reportedly spent around $959 million in Japan with many snapping up the "smart" electronic seats with clever built-in functions such as washing and heating.
The majority of Japanese brands, including TOTO Ltd and Panasonic Corp, actually manufacture their products in China.
Liu Wengui, secretary-general of Foshan Sanitary Ware Industry Association, said increasingly Chinese consumers demand a simple combination of quality and brand reputation.
"When it comes to sanitation technology, Japanese and other foreign companies with long histories are market leaders compared with Chinese companies which are only two decades old," he said.
"As an industry we have made big strides, but Chinese brands have less presence at the higher end of the market, which requires cutting-edge technology and innovation," said Liu.
According to the association, the domestic sanitary-ware market was worth 230 billion yuan ($36.7 billion) last year, of which foreign companies accounted for around 10 billion yuan, or less than 5 percent.
But with increasing incomes and standards of living, there is ample opportunity for domestic brands to expand into the top-quality sanitaryware market, such as for smart toilets, and some have responded to the hype.
Foshan Dongpeng Sanitary Ware Co Ltd, for example, which started manufacturing smart toilets in 2009, launched its "Why go to Japan to buy your toilet?" marketing campaign on March 1. The campaign includes discounts for toilet seats starting at 1,528 yuan ($244).
Dongpeng will also run promotions that give away other Chinese-made appliances such as rice cookers, which are similarly sought-after in Japan, again by Chinese tourists.