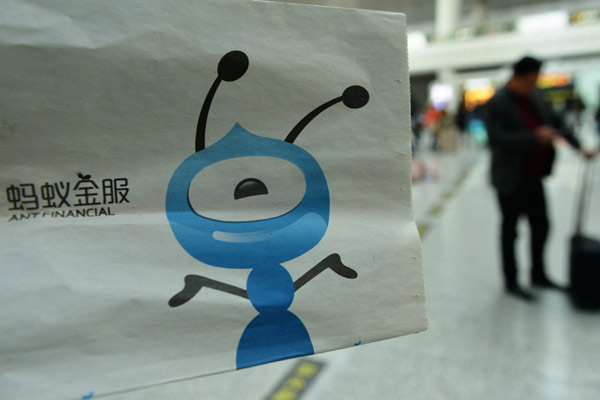 An advertisement of Alibaba's financial arm Ant Financial in Hangzhou, capital of East China's Zhejiang province. [Long Wei / For China Daily]
More Internet finance companies can consider listing on the A-share market to gain acceptance and recognition in China, despite they should deal with the risks from loss guarantee and rigid redemption, industry experts said on Monday.
Zhang Yujun, assistant chairman of the China Securities Regulatory Commission, said in a meeting on Thursday that the regulator has invited China's largest private lending search service provider Rong360 along with Alibaba's financial arm Ant Financial to be part of the first batch of Internet finance companies that are likely to be listed on the A-share market.
Zhang said it after studying Rong360's fund raising capabilities, willingness to go for an initial public offering and business pattern.
Ye Daqing, CEO of Rong360, confirmed the development and said: "We are considering an IPO and the A-share market will be a good choice as it will increase our visibility and business profile in China."
He said that Rong360 still has to iron out some aspects like the structure of its variable interest entities, or special-purpose vehicles that allow firms to keep assets off their balance sheets.
In addition, the company is yet to achieve the required threshold for profitability for an A-share listing.
He said that though Rong360 had about 80,000 financial products on its platform, it achieved a trading value of just $300 billion in 2014 and was not profitable during the period.
Ant Financial plans to list on the A-share market, with an estimated valuation between 200 billion yuan ($31.95 billion) and 250 billion yuan, the Shanghai Securities News said last month.
Zhou Xiaochuan, governor of the People's Bank of China, the central bank, had on Thursday indicated that the government would soon come out with detailed policies for the Internet finance sector, which comprises Internet payment and crowd financing, as well as using the Internet to sell financial products.
Dou Erxiang, a professor at Peking University, said: "The regulators' keenness for coming out with policies shows that the Internet finance sector is now seen as a supplement to China's existing financial system.
"Encouraging good Internet finance companies to go public is necessary because it is a good way to improve their popularity, drive bad players away and to decrease overall costs," Dou said.