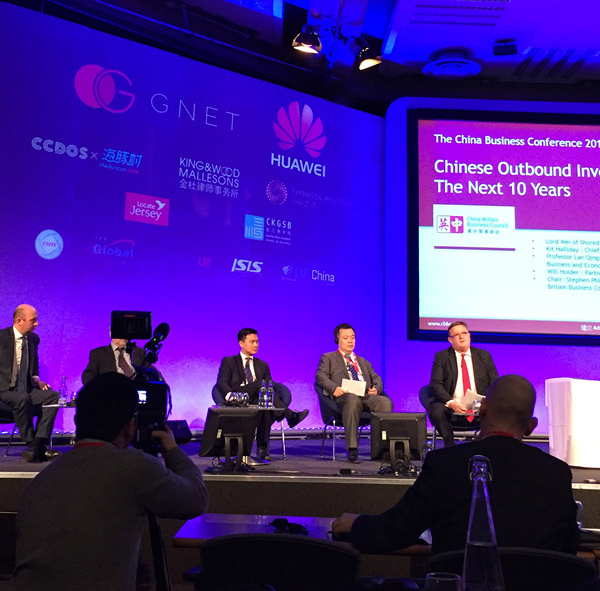 The China Business Conference which is organized by the China-Britain Business Council draws about 500 delegates from Britain and China to attend it in London on March 11, 2015.[Photo by Zhang Chunyan/China Daily]
China's economic "new normal" can bring more opportunities for UK companies, British business leaders said on Wednesday.
James Sassoon, chairman of the China-Britain Business Council, said China is undergoing a period of further transformation.
"It is stepping away from labor-intensive exports toward a more highly mechanized and service-originated economy, with heightened resilience on domestic demand and added emphasis on environmental sustainability," he said at the China Business Conference in London.
Premier Li Keqiang announced a growth target of about 7 percent for this year at the ongoing National People's Congress annual session as China moves toward a "new normal" of lower, more sustainable growth.
Sassoon added, "We should welcome and embrace these changes, and make sure we are well positioned to seize the opportunities they present."
Attended by about 500 delegates from Britain and China, the conference is organized by the council, a leading organization helping British companies to increase and develop their business with China. The aim is to create a forum for discussion and cooperation to position business between the two countries.
David Robinson, president of Speedo International, which is based in Britain and manufactures and distributes swimwear and accessories, said China's "new normal" will place great emphasis on fitness and healthy lifestyles.
Speedo's products are available in most first- and second-tier cities in China, and the company is now working on increasing its e-commerce presence.
Chris Hill, development manager of Lifecycle Marketing, which provides education programs for pregnant women, said China's "new normal" will boost the market for his business, with great emphasis being placed on healthy lifestyles and quality of living.
Hill said although China's economic growth is slowing, the country still represents a huge market for Lifecycle, with the annual pregnancy rate in China standing at 16 million, compared with 800,000 in Britain.
The company is looking to expand into China through joint ventures and marketing strategies to attract China's emerging middle class, Hill added.
Ni Jian, charge d'affaires at the Chinese embassy in London, explained, "China's growing demand for brands provides great opportunities for reputable British brands with high-recognition and reputation in the Chinese market.