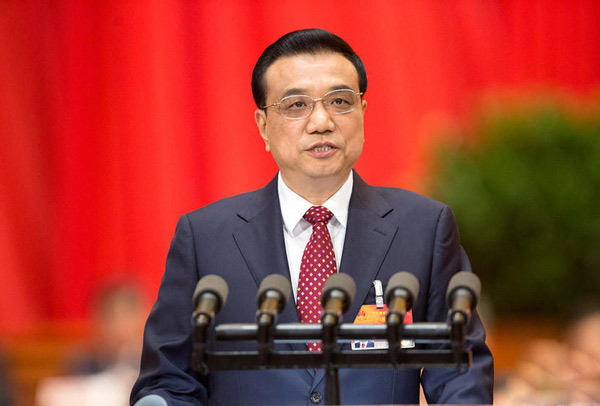 Chinese Premier Li Keqiang delivers a government work report on the opening day of the third session of the 12th National People's Congress in Beijing, March 5, 2014. In Premier Li's Government Work Report, "innovation" was shown as being of great significance for the Chinese economy in its new normal.[Photo/china.com.cn]
The Chinese economy is still able to maintain a growth rate over the middle to long term that is much higher than the world's average if it works to tap its economic potential, says a People's Daily article.
US economist Lawrence Summers has forecast that China's economic growth will slow to 5 percent by 2023 and to a level slightly higher than 3 percent from 2023 to 2033. Such a forecast seems compatible with the "new mediocrity", which believes an economy will decelerate to a level slightly higher than 3 percent after a high-speed growth like the one China has experienced, but it may underestimate China's potential.
The 3 percent average global economic growth in recent years does not mean all countries will inevitably maintain such a rate. China's growth will be decided by its own economic potential and policy measures rather than by a "universal rule". The full knowledge about its new economic normal and ongoing economic deceleration, along with a series of measures to voluntarily adapt itself to such new developments, will help China transcend the "new mediocrity" some Western economists are predicting for it.
The shift from the previous high-speed economic growth to a moderately high speed is a trend caused by some structural factors rather than just outside factors, and this is an inevitable result of China's economic transformation. The country is promoting the transformation from input-driven to innovation-driven growth to make up for the disappearance of its decades-long demographic dividend and declining investment returns. Only by so doing can China create new sources of growth and realize sustainable medium speed growth.