Middle class turning away from high-profile expensive brands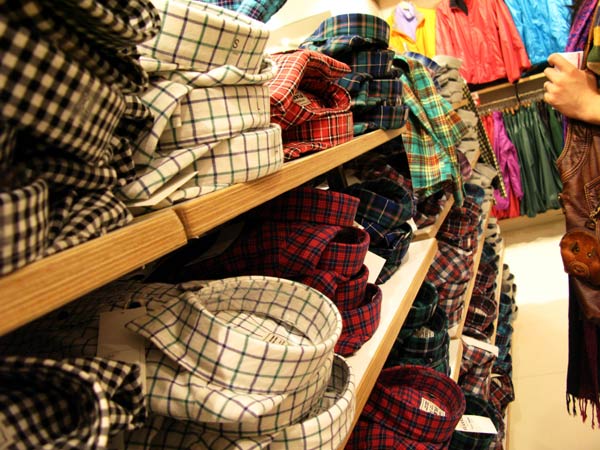 Shirts of different colors on shelves at a Uniqlo store in Beijing. The Japanese fast fashion brand is aggressively expanding its market share in China.[Provided to China Daily]
Last year definitely ended with two widely differing stories in the fashion world in China, with traditional well-known luxury brands experiencing a downturn while more affordable luxury products and fast fashion brands turning in satisfactory results.
China's luxury market contracted for the first time in 2014, with the total market value slightly down by 1 percent year-on-year to reach 115 billion yuan ($18.34 billion), according to consultancy firm Bain & Company. Sales of luxury watches dropped the most significantly by 13 percent last year, while menswear dropped 10 percent.
This can be largely attributed to the continuing impact of Beijing's anti-corruption and frugality campaigns. The country's economic slowdown also exacerbated the issue, according to Bruno Lannes, a partner with Bain & Co.
Alain Li, regional chief executive officer of Richemont APAC, said that the company, which is known for its luxury watch and jewelry brands, witnessed healthy growth in China before 2014. However, last year was the first time that it witnessed a decline in the Chinese market, mainly affected by the rise of daigou, or overseas shopping agents, as well as the exchange rate, which means that more Chinese are making luxury purchases overseas.
The situation for Italian brand Prada is even worse. Even though the company saw some recovery in the sluggish European market in the first three quarters with the rate of decline gradually narrowing, its sales in the Asia-Pacific region continued to deteriorate throughout 2014.
If calculated by fixed interest rates, its sales revenue declined by 7 percent last year, mainly due to worsening sales in the fourth quarter in China. As a result, the entire group's sales dropped 1 percent in 2014 to 3.5 billion euros.
The reason for the decline of these traditional luxury brands is consumer preference. As discovered by Bain& Co, rather than celebrated brands such as Louis Vuitton, Gucci and Prada, Chinese consumers have expressed a willingness to buy less known emerging luxury brands, with more than 80 percent of the 1,400 polled consumers saying they had such plans over the next three years. Brands such as Balenciaga, Michael Kors and Kate Spade have become more attractive to Chinese consumers.
In addition, logos continue to be less important as Chinese consumers become increasingly sophisticated. About 28 percent of the surveyed consumers considered luxury goods with an obvious logo as too high profile. Another 18 percent considered them outdated or even tacky. More than 20 percent of the total interviewed consumers said they would not buy products with visible logos in the future.