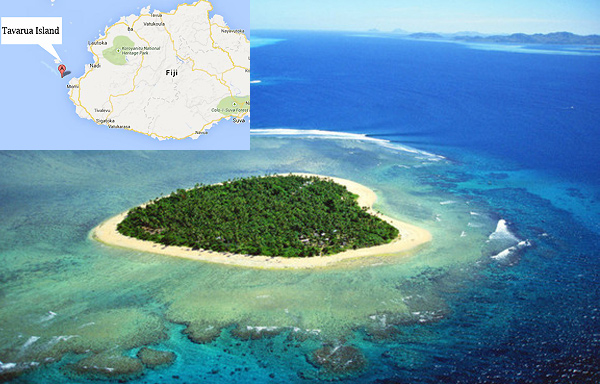 A view of the island in Fiji bought by a businessman in China's Zhejiang province in this undated photo, with an inset map of the island's location. [Photo/ilongterm.com]
Four islands in Fiji, Greece, the United Kingdom and Canada were put up for auction on China's largest online shopping platform Taobao, and three of them sold within 12 hours.
Any Chinese citizen who put up a 1,000 yuan ($159) deposit was qualified to bid. Starting at 10 am on Tuesday, at least 48 bidders took part in the auction.
Except for the UK property, which had a starting price of 4 million yuan and was not sold, the other three islands had a starting price of only 1 yuan. The island in Fiji was sold with 99-year rental property rights while the others were sold freehold.
When the auction ended at 10 pm on Tuesday, a construction magnate in Yunnan province had bought the islands in Greece for 6.2 million yuan and in Canada for 1.7 million yuan.
A businessman in Zhejiang province bought the island in Fiji for 5 million yuan, according to Beijing-based Ilongterm, the real estate firm that held the auction.
"We chose to work with Taobao as a strategic partner, because it is undoubtedly the most influential online shopping platform in China right now. Our bidders in this auction were long-time users of Taobao who have spent about 10 million yuan on it so far," said the marketing manager of Ilongterm who asked for anonymity due to company regulations.
Ilongterm will take the winning bidders to their islands for on-site inspections and the completion of procedures such as paying taxes, commissions and legal expenses. The company will also auction more overseas properties on Taobao later this month and in May.
Taobao started auctioning for overseas properties on Dec 12.
"We are catering to the rising demand for overseas properties among these groups and we are sure to offer more such projects in the future," said Taobao in a written reply.
According to Lin Dong, founder of the China Island Owners Association, wealthy Chinese are showing growing interest in overseas islands in recent years.
Islands in China come with many restrictions on their use and just 50 years of ownership. But most overseas islands are sold freehold. Wealthy Chinese bought at least seven overseas islands in 2014.