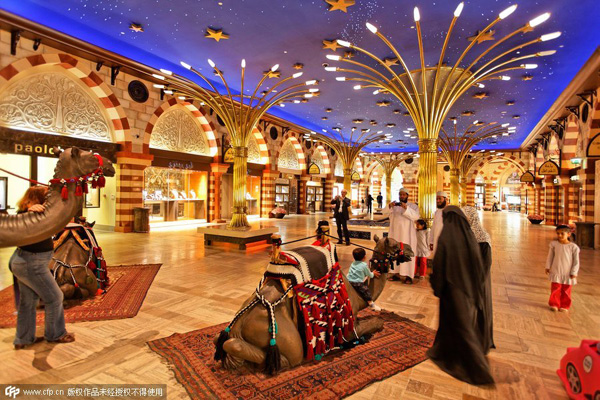 The Dubai Mall [Photo/CFP]
DUBAI - The United Arab Emirates (UAE) would like to serve as the gateway to better ties between China and the countries in the Gulf region and the Arab world, a senior UAE official said on Saturday.
UAE Vice President Sheikh Mohammed Bin Rashid Al-Maktoum made the remarks while meeting with Chinese Foreign Minister Wang Yi in Dubai.
Mohammed, also Dubai ruler and UAE prime minister, said his country highly values its relations with Beijing, adding that it welcomes more investment and travelers from China.
He also said the UAE is ready to join China in carrying out the Belt and Road initiatives.
The Belt and Road Initiatives were put forward by Chinese President Xi Jinping during his overseas visits in 2013, which includes the Silk Road Economic Belt - from China via Central Asia and Russia to Europe, and the 21st Century Maritime Silk Road - through the Strait of Malacca to India, the Middle East and East Africa.
The UAE leader also noted that the Asian Infrastructure Investment Bank (AIIB) would benefit the development of regional countries, and accord with the interests of all sides.
On Oct 24, up to 21 Asian countries signed a memorandum of understanding on establishing the AIIB, an initiative proposed by President Xi in a bid to finance infrastructure projects across Asia.
Wang said the UAE has now become a key country linking China and the Arab world, and has a unique position in the Gulf region, adding that China is willing to step up its strategic partnership with the Middle East country.
The Chinese foreign minister also hoped that the two sides can expand their traditional cooperation to more emerging sectors and industries.
China is also ready to work with the UAE in enhancing their coordination while dealing with global and regional affairs so as to safeguard the legitimate rights of the developing nations, he added.
Also on Saturday, Wang Yi, who is on an official visit to the nation, also held a meeting with his UAE counterpart Sheikh Abdullah Bin Zayed Al-Nahyan in Abu Dhabi.
Before his arrival in the UAE, the Chinese foreign minister also visited Pakistan. He will travel to Iran after the UAE trip.