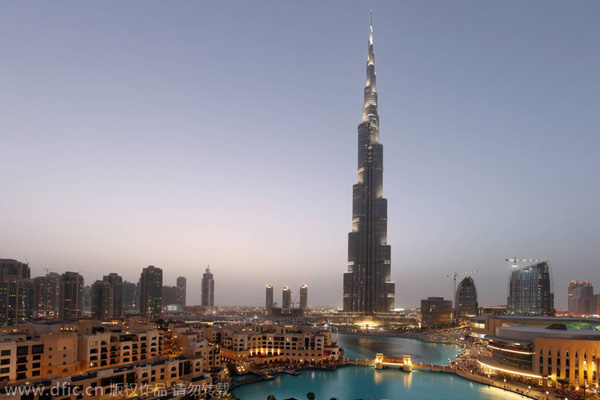 The Burj Khalifa Tower in Dubai. [Photo/IC]
Dubai, fresh from capturing the title of busiest international airport from London Heathrow, has set its sights on becoming the world's top hub by retail sales this year as a flood of Chinese passengers add to a shopping spree.
Spending at Dubai International Airport should reach $2.1 billion in 2015, up from $1.9 billion last year, when 80 days of runway repairs cut receipts by about $50 million, said Colm McLoughlin, vice-chairman of Dubai Duty Free, which runs 26,000 square meters of retail space at the hub.
Dubai is vying for the top spot with South Korea's Incheon International Airport, which serves the Seoul conurbation. The Asian base had sales of 2.09 trillion won last year ($1.91 billion).
The two hubs have been trading positions in recent years, with Dubai ranked first in 2013, according to duty free analyst Generation Research.
"There are more and more Chinese traveling all the time," McLoughlin said. "Although one sector might drop, it's replaced by something else. We expect to be No 1 again."
Chinese passengers who make up about 5 percent of Dubai's total throughput contributed 13 percent of its duty free revenue in 2014, countering a decline in Russian spending after the weakening of the rouble, McLoughlin said.
Scenting success
Dubai International's overall sales last year were led by 3.2 million bottles of perfume that generated revenue equal to $314 million or 17 percent of the total, followed by 17 million units of beer, wine and liquor for $286 million, 3.4 metric tons of gold items worth almost $164 million, and $160 million of tobacco products including 4.2 million cartons of cigarettes.
Electronics purchases included over 133,000 cameras, about 20,000 Apple Inc iPads and more than 140,000 mobile phones.