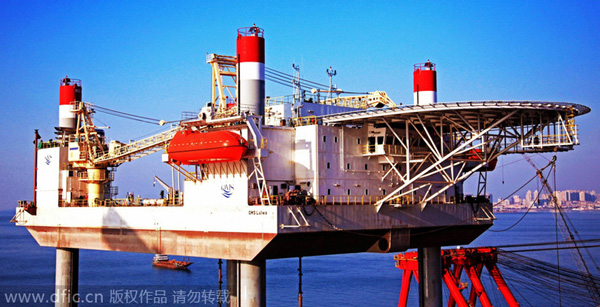 An oil-drilling platform in Qingdao, East China's Shandong province, Jan 6, 2015. [Photo/IC]
Slumping crude prices prompting top giants to cut production and reduce operating costs
The big three oil companies are learning to live with idea that crude prices may not recover soon. China Petroleum & Chemical Corp (known as Sinopec), PetroChina Co and CNOOC Ltd are cutting spending and controlling costs to cope with crude's plunge in the past seven months that has already crimped 2014 earnings.
Fu Chengyu, chairman of Sinopec, said on Jan 15 that profit from exploration and refining "fell off the cliff" in the fourth quarter.
"Chinese explorers have to find a way to deal with low prices rather than hoping for a sudden rebound to save them," said Shi Yan, an analyst at UOB-Kay Hian Ltd in Shanghai. "Low crude prices are here to stay."
The old way of doing business of relying on increasing production and boosting refining margins was "dead", Fu said in a Jan 16 statement on the Sinopec's website. Brent crude, the benchmark for half the world's oil trading, has fallen 46 percent in the past seven months.
PetroChina may post a 53 percent profit decline in the fourth quarter, while Sinopec may see a 77 percent drop, according to a research note from JPMorgan Chase & Co on Jan 18.
CNOOC, the nation's biggest offshore oil and natural gas producer, which has no exposure to refining, may report a 48 percent decrease in second-half earnings, according to JPMorgan.
"Fourth-quarter earnings will probably be just 20 percent that of the third quarter," said Gordon Kwan, Nomura Holding Inc's Hong Kong-based head of regional oil and gas research. "Earnings for these companies can be downgraded by 80 percent for the rest of the year if oil remains at these levels."
Based on $60 a barrel crude for 2015, Barclays Plc has forecast that PetroChina, CNOOC and Sinopec's annual earnings to drop 44 percent to 73 percent.
CNOOC will cut capital spending by as much as 35 percent to about 70 billion yuan ($11 billion) this year, the State-owned offshore explorer said after its annual strategic preview meeting on Feb 3.