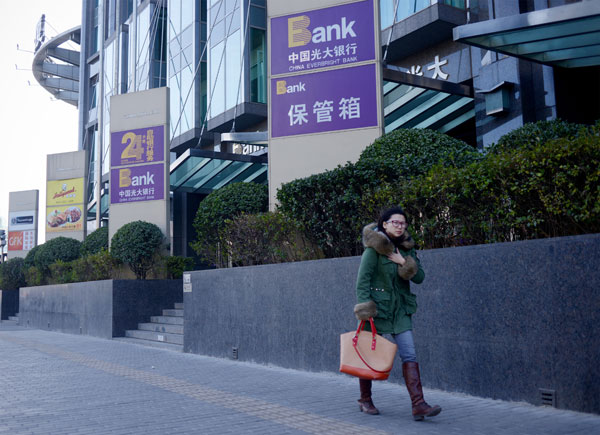 A woman walks past a China Everbright Bank Co Ltd branch in Beijing, Dec 10, 2013. [Photo/Agencies]
China Everbright Bank Co became the first listed lender to cut deposit rates from a maximum level allowed since November, a sign competition for savings may be easing as the central bank boosts liquidity and the economy falters.
Everbright Bank last week lowered its one-year deposit rate to 3.16 percent from 3.3 percent, the Beijing-based lender said in a statement.
The lender is, at least for the moment, retreating from the competition for deposits, which has intensified as money pours into Internet funds, investment products and stocks.
Everbright Bank acted on the day a cut of the reserve requirement ratio added as much as 600 billion yuan ($96 billion) to the banking system, according to Australia & New Zealand Banking Group Ltd estimates.
"This is a very interesting move and I think others will follow suit," said Tang Yayun, a Shanghai-based analyst at Northeast Securities Co.
"Pressure on attracting deposits is coming off recently with a slew of easing measures - at the same time, with the economy doing so badly, banks are finding it hard to lend that money out."
The central bank last month changed the way it calculates banks' loan-to-deposit ratios by including interbank deposits and lending for the first time, giving some banks scope to extend more credit.