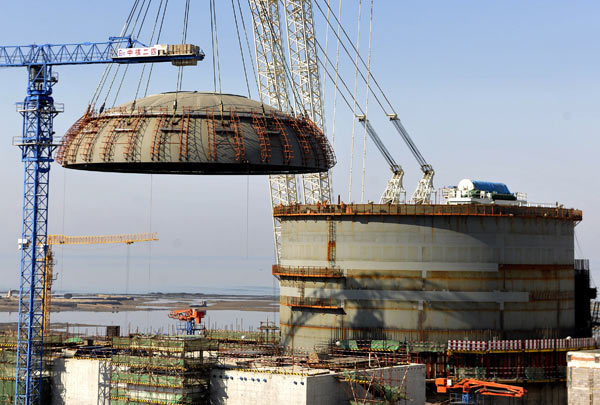 A steel dome is hoisted onto the No 1 reactor at Haiyang nuclear power plant in Shandong province in March 2013. [Photo/Xinhua]
Wang Mengshu, an academic at the Chinese Academy of Engineering who specializes in rail and infrastructure projects, said China boasts the longest rail lines in the world-proof of its technological success-and Chinese rail companies' prices are more competitive than Japanese and German companies.
"Railway exports invigorate the whole industrial chain, including the manufacturing of locomotives, parts and signals," he said.
Chinese companies are more competitive since they are able to offer a whole package of services, including infrastructure construction, locomotive manufacturing, maintenance and professional training, Wang said.
Wednesday's executive meeting also brought a decision to build more business incubators to provide logistics, legal and accounting services for startup companies.
It asked local governments to streamline the administrative procedures for small and micro companies, and to provide offices at low cost or subsidize their rent, Internet and other fixed expenses.
The meeting pledged to use government-backed funds and tax exemptions to support early-stage scientific and technological companies, which often face difficulties in borrowing capital because of their lack of tangible assets.
Angel investors, crowd funding, a regional stock exchange market and intellectual property mortgages will also be encouraged to support startup businesses.