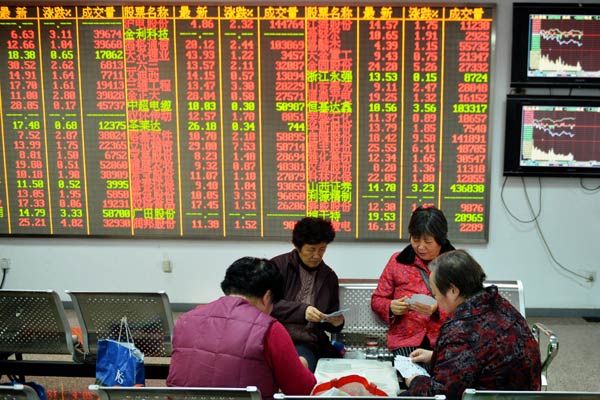 A group of small investors play poker at a brokerage in Hangzhou, Zhejiang province, on Dec 24,2014 when China's stocks tumbled for a second day amid reports of government action to cool the market. [Long Wei/For China Daily]
BEIJING - Chinese brokerage firms posted big profits in the first month of 2015, boosted by easing measures from policymakers.
Combined net profits of 20 listed firms totaled 8.11 billion yuan ($1.32 billion) in January with aggregate revenues hitting 16.83 billion yuan, data from the Shanghai and Shenzhen bourses showed on Monday.
Citic Securities and China Merchants Securities were the top two earners in January with their net profits amounting to 2.11 billion yuan and 1.74 billion yuan, respectively.
The sector's strong performance was attributed to bullish Chinese shares in the last quarter of 2014, thanks to a recovering economic climate and easing measures from the central government.
The inspection by China's securities regulator on stock margin trading business at 12 brokerages in mid-January, however, caused net profits to shrink from that of December.
Of the 19 listed brokerages, aside from one firm that was newly listed in January, revenue totaled 15.54 billion yuan in January, down 20.27 percent from December, and the net profit increased by 0.84 percent to 7.43 billion yuan.
Despite this, it is forecast that Chinese brokerages will continue to scoop higher profits in 2015 due to further easing policies.