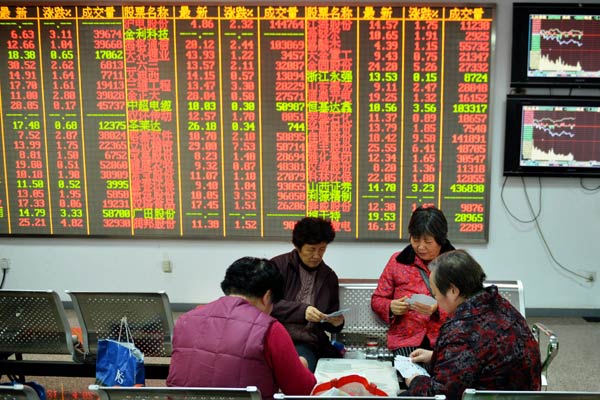 A group of small investors play poker at a brokerage in Hangzhou, Zhejiang province, on Wednesday, when China's stocks tumbled for a second day amid reports of government action to cool the market. LONG WEI/FOR CHINA DAILY
Surging share prices in the Chinese mainland are raising the prospect of government action to prevent an equity bubble, a potential threat to brokerage earnings that are projected to hit a seven-year high this year.
UBS Group AG has said that regulators could limit the use of credit in buying stocks. In 2007, authorities raised a trading tax after a sixfold increase in the Shanghai Composite Index over two years. Some brokers have boosted minimum-asset requirements for margin trading and short selling, the 21st Century Business Herald said on Wednesday, citing unidentified employees.
Potential government action puts at risk the trading volumes and record margin lending that have placed the nation's 19 publicly traded brokerages on course for a 62 percent profit gain this year, data compiled by Bloomberg show.
The firms' shares fell an average 6.4 percent on Wednesday, paring 2014 gains to 134 percent. The Shanghai index has jumped 40 percent this year, the second-biggest gain among 93 benchmarks tracked by Bloomberg.
"While the stock market is extremely hot now, the question remains if such strong trading volumes will continue into next year," said Tang Yayun, a Shanghai-based analyst at Northeast Securities Co. "This is a risk that we need to watch out for securities companies. The explosive growth in securities lending and margin financing isn't sustainable."
The China Securities Regulatory Commission this month cautioned investors on buying shares and started inspecting some brokerages' margin finance businesses. Shares of CITIC Securities Co and Haitong Securities Co, the top two brokerages by market value, lost more than 9 percent in Shanghai trading on Wednesday.
Shanghai's average daily trading volumes this year are 50 percent higher than the 2013 mean. The prospect of higher trading-related fees had driven the market value of CITIC Securities to $55 billion as of Dec 19, replacing Credit Suisse Group AG as the world's fourth-biggest securities firm, data compiled by Bloomberg show.
Increased appetite for risk has made investors more willing to take on debt to finance equity purchases. The amount of credit extended to investors to buy stocks climbed to 1 trillion yuan ($161 billion) as of Dec 19, nearly triple the 344 billion yuan at the end of 2013, China Securities Finance Corp data show.
Brokers' ads are luring the Chinese public to leveraged investing. Customers with Huatai Securities Co trading accounts that are at least six months old can be approved for margin-finance accounts in "minutes" through its smartphone application, according to the brokerage's website. "Big bets" are possible at a low cost, Huatai said.
One investor who is thinking about using borrowed money to amplify his bets on equities is Zhang Jun, 40, a real estate analyst in Beijing. If President Xi Jinping "wants to realize the Chinese dream, he has to boost the stock market, which makes us ordinary people happy," Zhang said.