Related stories: China turns to rail , nuclear to energize exports, by Zhao Yinan, China Daily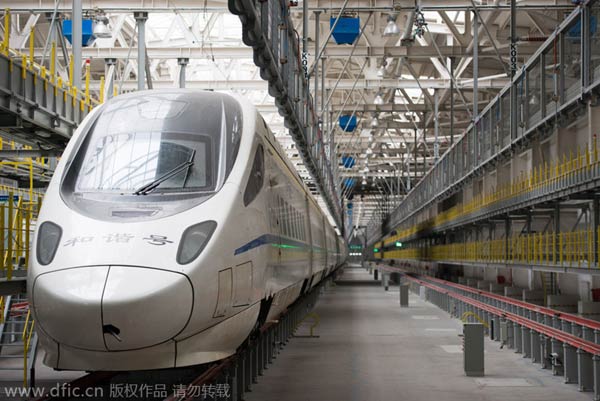 A CRH (China Railway High-Speed) train is seen at a maintenance station for an overall system examination in Urumqi,capital of Northwest China's Xinjiang Uygur autonomous region, June 3, 2014. [Photo/IC]
China will lift sluggish exports by promoting rail, nuclear power and surplus products in overseas markets after trade growth fell short of its target last year.
The exploration of overseas markets for railways, nuclear power and other sectors involving the use of large-scale equipment will be upgraded through joint-ventures and public-private partnerships, top members of the State Council decided on Wednesday. Premier Li Keqiang presided over the executive meeting.
Industrial resources in those sectors should be integrated, according to a statement released after the meeting. The decision was in line with the ongoing merger of the country's top two train makers, hinting that a similar overhaul in related industries could be possible.
Industries with overcapacity, including steel, nonferrous smelting, building materials and textiles, are also included in China's latest plan to reach out to overseas markets, the statement said.
The statement said the plan will become another engine to drive the country's exports and help with needed upgrading of domestic industries.
China has relied heavily on the export of large-scale equipment, such as railways and nuclear power facilities, to boost trade after missing its growth target for the third consecutive year.
The country's foreign trade rose by 3.4 percent last year, far behind its target of 7 percent. Exports grew by 4.9 percent last year to 14.4 trillion yuan ($2.32 trillion), and the surplus widened to 2.35 trillion yuan.
In its latest move, China CNR Corp, a leading manufacturer of locomotives in China, announced an export contract for subway trains with the United States on Jan 27. It was the first foray into the US rail transit market, Xinhua News Agency reported.
The manufacturer will sell 284 subway trains worth 4.12 billion yuan to equip Red and Orange subway lines in Boston, the announcement said.