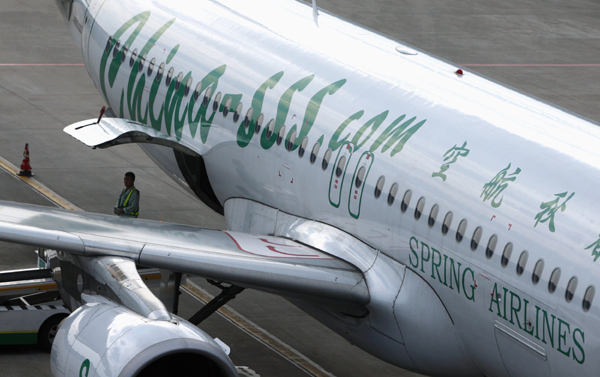 An employee of Spring Airlines stands next to an Airbus A320 aircraft at Hongqiao Airport in Shanghai in this July 6, 2012. [Photo/Agencies]
A rush to buy into China's only listed low-cost carrier has sent Spring Airlines Co shares rocketing just as new arrivals herald the beginnings of a price war that could eat into already-low profit margins.
Since its Jan 21 market debut, Spring has more than doubled in value to $3.3 billion as investors scramble for a piece of a still-small industry set for massive growth in China. It leapfrogged Malaysia's AirAsia Bhd KL to become Asia's biggest carrier by market value, though operating margins are dwarfed by AirAsia and peers like SouthWest Airlines.
In a sector expected to triple by 2025, the same prospects luring investors to privately owned Spring have fired up nascent rivals. With China having eased restrictions to stoke its aviation industry as an economy booster, new carriers are sprouting up: state-run carrier China Eastern Airlines has turned full-service unit United into a low-cost carrier, joined by start-ups like Guangzhou's LCC 9 and Chongqing's West Air.
"Spring will face more competition as it is no longer the only low-cost player any more," said Gao Liangyu, an analyst with Huatai Securities. "All the Chinese LCCs have yet to learn from their overseas peers in term of cost control," the analyst said, noting domestic full-service carriers also offer a challenge.
Nearly a decade after he founded Spring, chairman Wang Zhenghua saw the challenge coming for an airline he built slowly and cautiously in the shadow of the state's domination of the industry. Last year, he predicted four to five low-cost airlines would be up and running by early 2015: "Without a doubt, there will be a price war," he told Reuters.