BEIJING - China's third low-cost carrier, 9 Air, launched its first flight on Tuesday afternoon, with its cheapest ticket priced at 9 yuan ($1.47).
The inaugural flight took off at 1 pm from Guangzhou, capital of South China's Guangdong province, and landed in the western Guangdong city of Zhanjiang 70 minutes later.
Guangzhou-based 9 Air was founded in February this year as a budget subsidiary of privately owned Juneyao Airlines. It is the third low-cost carrier to operate in China after Spring Airlines and China West Air.
In the near term, 9 Air plans to operate domestic flights from Guangzhou. Later, it aims to expand into East Asia and Southeast Asia.
Ji Guangping, 9 Air CEO, said its low-end tickets will be priced at 9 yuan, 99 yuan, 199 yuan and 299 yuan. In general, 9 Air's prices will be 20 to 30 percent lower than the industry's average, he said.
In May this year, 9 Air placed an order to purchase 50 Boeing 737 jets. The planes, including Boeing 737-800 jets and the next generation of 737 MAX models, will be delivered before 2020.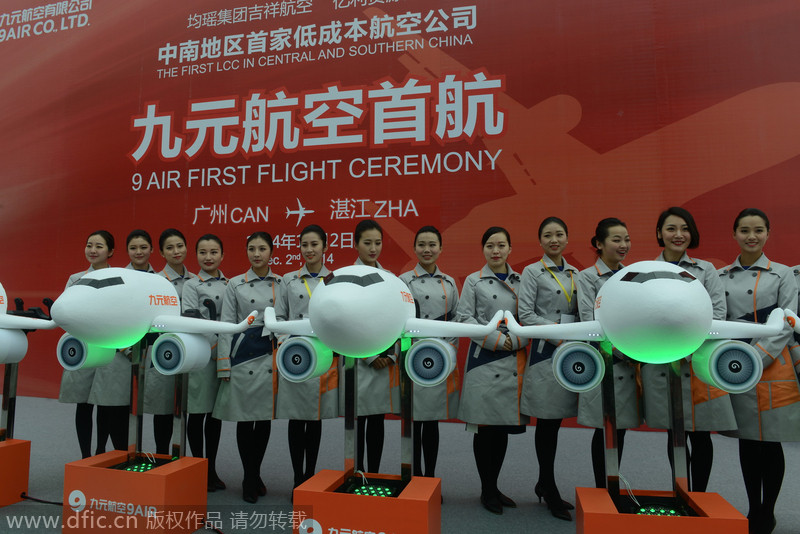 Air hostesses pose with model planes during the 9 Air first flight ceremony at the Guangzhou Baiyun International Airport in Guangzhou city, South China's Guangdong province, Dec 2, 2014. [Photo/IC]