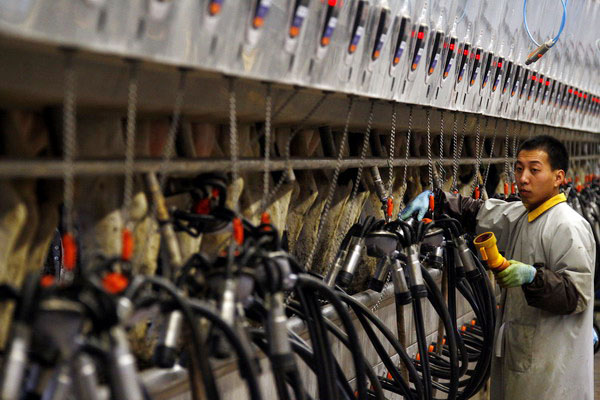 A worker prepares to milk cows at a farm managed by New Zealand dairy giant Fonterra Co-operative Group Ltd in Yutian county, Hebei province.[Photo/Agencies]
Many farmers are being forced to pour products down the drain, report Wang Zhuoqiong in Beijing and Zhao Ruixue in Jinan.
The plunging price of fresh milk has nearly forced Zhang Xuekai out of the business. The 30-year-old has managed a collective dairy farm in Licheng district of Jinan in Shandong province since 2012.The price of raw milk peaked in 2013,soaring to 5.7 yuan (91 cents) per kilogram, she still remembers.
But the good days had pretty much faded from her memory by April last year when the price had nearly halved to 3 yuan per kg, and situation is yet to improve.
"At these levels, it is hard to keep the business running anymore," Zhang said.
Zhang has invested nearly 4 million yuan in the milk business, about 1 million yuan of which is borrowed.
Despite signing a three-year supply contract with Inner Mongolia Yili Industrial Group Co Ltd at the start of 2013,the domestic dairy giant still stopped collecting milk from her farm atthe end of last year, and she is now considering a lawsuit against Yili for breach of contract.
A major part of that investment was 500,000 yuan spent on a set of imported feed processing equipment, as required by Yili under the contract.
The business used to have 800 cows but most of that herd has now been sold, leaving her just 170 animals. Chen Jiayun, one of the 13 farmers involved in the collective, has sold 38 of her cows, from the original 73.
"Raising cows is as hard as raising a baby," said Chen. "You have to be really careful about hygiene and feed."
Her story is being mirrored by thousands of milk producers across China, as sales prices fall well below break even point, she said.
Before the 50-year-old was forced to start selling her cows, the cost of feed each day was around 3,330 yuan. The 1 metric ton of milk she took from the animals daily brought her around 3,000 yuan.
The milk industry crisis is particularly serious in provinces like Shandong, Hebei and Qinghai, said industry sources.
As an increasing number of dairy companies start to reduce or halt their collection of fresh milk, many farmers there are being forced to pour their milk down the drain or even have their dairy herds slaughtered.
And while domestic farmers find it increasingly hard to sell their fresh milk, the import of dairy products has continued to grow.