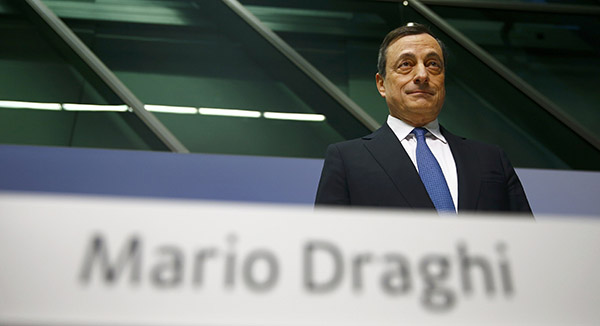 European Central Bank (ECB) President Mario Draghi arrives for an ECB news conference in Frankfurt January 22, 2015. The European Central Bank kept the cost of borrowing unchanged on Thursday, remaining poised to announce a plan to buy government bonds, its last big policy option for breathing life into the flagging euro zone economy. [Photo/Agencies]
FRANKFURT - The European Central Bank took the ultimate policy leap on Thursday, launching a government bond-buying program which will pump hundreds of billions of new money into a sagging euro zone economy.
The ECB said it would buy government bonds from this March until the end of September 2016 despite opposition from Germany's Bundesbank and concerns in Berlin that it could allow spendthrift countries to slacken economic reforms.
Together with existing schemes to buy private debt and funnel hundreds of billions of euros in cheap loans to banks, the new quantitative easing programme will pump 60 billion euros a month into the economy, ECB President Mario Draghi said.
By September next year, more than 1 trillion euros will have been created.
"The combined monthly purchases of public and private sector securities will amount to 60 billion euros," Draghi told a news conference. "They are intended to be carried out until end-September 2016 and will in any case be conducted until we see a sustained adjustment in the path of inflation."
Bonds will be bought on the secondary market in proportion to the ECB's capital key, meaning the largest economies from Germany down will see more of their debt purchased by the ECB than smaller peers.
The prospect of dramatic ECB action had already prompted the Swiss central bank to abandon its cap on the franc while Denmark, whose currency is pegged to the euro, was forced to cut interest rates in anticipation of the flood of money.
The Danish central bank intervened to weaken the crown ahead of the announcement.
Former ECB policymaker Athanasios Orphanides said action was long overdue. "The ECB should have already embarked on QE," he said. "Now that the situation has deteriorated, the ECB will have to do much more."
The euro fell, European shares jumped and bond yields in Italy, Spain and Portugal fell with the single currency dropping a full cent against the dollar to $1.1511.
Draghi has had to balance the need for action to lift the euro zone economy out of its torpor against German concerns about risk-sharing and potentially being left to foot the bill.
Tensions broke out as the meeting got underway with French Finance Minister Michel Sapin firing a broadside at Berlin.
"The Germans have taught us to respect the independence of the European Central Bank," he told France Info radio. "They must remember that themselves."
A German lawyer who has been prominent in attempts to halt euro zone bailouts said he was already preparing a legal complaint against an ECB bond-buying programme.