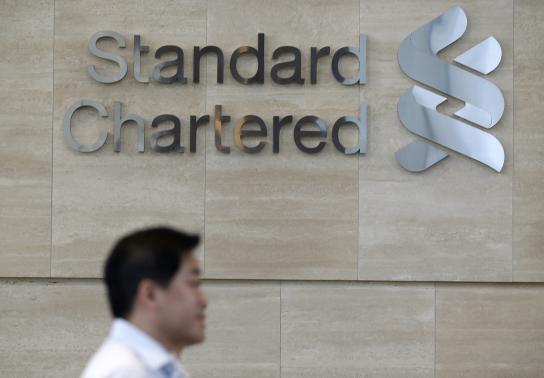 An office worker walks past a Standard Chartered logo outside its head office in Singapore January 8, 2015. [Photo/Agencies] 
Standard Chartered Chief Executive Peter Sands moved aggressively on Thursday to reverse the Asia-focused bank's fortunes by closing the bulk of its global equities business and axing 4,000 jobs in retail banking.
The lender said it was dismantling its stockbroking, equity research and equity listing desks worldwide, becoming one of the first global banks to get out of the equity capital markets business completely. The decision to close the loss-making division will lead to 200 job cuts, almost all in Asia.
In its retail banking division, Standard Chartered said it has announced 2,000 job cuts in the last three months, and plans to axe a further 2,000 this year. The cuts would represent about 5 percent of the bank's 86,000 employees.
The bank also announced the departure of Chief Risk Officer Richard Goulding and Jan Verplancke, chief information officer. It said both were retiring from the company and would stay until successors were appointed.
Sands, who turned 53 on Thursday and has been CEO for eight years, is coming under increasing pressure after a troubled two years, which abruptly halted a decade of record profits. Some investors said last year he should go, or the bank should at least lay out a clear succession plan.
Falling commodity prices and a slowdown in growth in many of its core emerging markets ate into Standard Chartered's earnings in 2014 and the bank has been hit by a surge in bad loans and rising regulatory costs.
Closing the equities businesses, which had revenues of about $100 million a year but were losing money, should save the bank $100 million a year from 2016.
That will add to a plan announced in October to cut $400 million in costs this year as Sands tries to reverse a slide in profits that has seen the bank's share price slump more than 40 percent over the past two years.
Bankers in Standard Chartered's equities division in Hong Kong arrived on Thursday to find they were locked out of the office. Some in Singapore were escorted from their workplaces.
"We came in this morning and were told the equity business was being shut down," a woman who identified herself as an ex-employee at the bank's offices in Singapore told Reuters, saying she had worked in research.
Standard Chartered's London shares were up 2.7 percent and its share rose 2.9 percent in Hong Kong as analysts welcomed signs that Sands is prepared to go further with his strategy overhaul.
Some analysts said more action may be needed to get the bank back on track, however.
"It's a logical step. But laying off staff is not enough to address the situation," said James Antos, a banking analyst at Mizuho Securities Asia in Hong Kong.