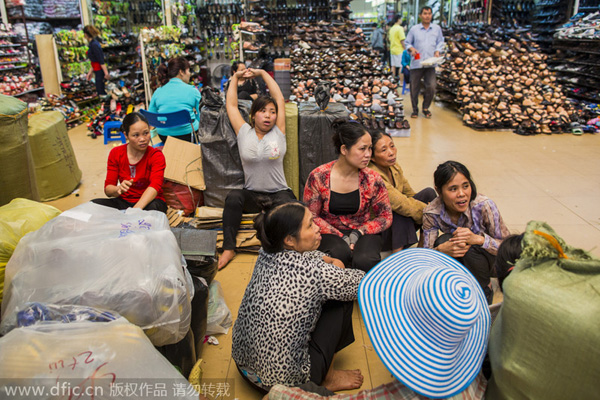 Laborers wait for work at Dong Xuan Market, one of the largest markets in Hanoi, the capital of Vietnam, April 1, 2012. [Photo/IC]
HANOI - Visiting Dong Xuan Market, the largest and the oldest wholesale market in Hanoi, one can immediately see that most of the products and items being sold there are made in China.
Built by the French in 1889, Dong Xuan Market has been renovated several times, the latest in 1994 after a fire almost destroyed the market.
Currently, Dong Xuan Market is considered the largest wholesale market in Hanoi with some 2,000 shops selling everything from electronics, clothes, household appliances, toys, fashion accessories and foodstuffs.
According Tinh, a 70-year-old female shopkeeper, products made in China, particularly cheap electronics and fabrics, are the favorite of Vietnamese shoppers at the market.
She said almost 80 percent of the products sold in the market come from China.
Tinh, who has been selling fabrics at the market for over 30 years, said unlike before, it is now easy to buy goods from China.
"Years ago, there was a man who bought fabrics from China and delivered them to us, but then my family decided to go to China to buy products ourselves. It is more convenient and we earn more profits," Tinh told Xinhua.
According to Tinh, her customers patronize Chinese-made fabric not only because they are cheaper but also because of their beautiful design and excellent quality.
Thanh, who owns four shops at the market selling watches, accessories and jewellery for more than 10 years, told Xinhua that he goes to China two to three times a month to buy the items sold in his shops.
"Selling Chinese products is quite profitable as many Vietnamese, especially the young people, like products with beautiful designs at comparatively lower prices," Thanh said.
Thanh said one time he bought Chinese-made accessories worth about 10 billion Vietnamese dong ($472,000).
Thanh said he goes to China, orders the goods that he needs and pays for them and the goods are delivered to his shops without much hassles.