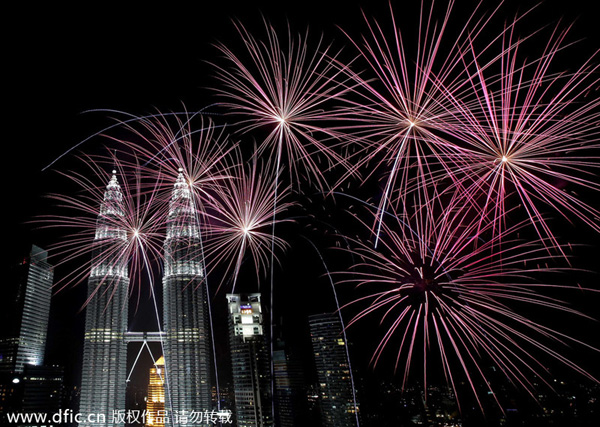 A firework display lights up the Petronas Towers in Kuala Lumpur, Jan 2014. [Photo/IC]
BEIJING - Bank of China, a major Chinese state-owned bank, has been authorized to conduct renminbi clearing business in Kuala Lumpur, Malaysia, China's central bank said on Monday.
The authorization came after a mutual cooperation memorandum was reached between the two nations' central banks, said the People's Bank of China, China's central bank.
Renminbi clearing business in overseas markets has become a major tool in promoting globalization of the yuan, the Chinese currency. So far, such business has been established in China's Hong Kong and Macao, as well as foreign cities including Singapore, London, Frankfurt, Seoul, Paris, Luxembourg, Doha, Toronto and Sydney, according to the central bank.
Bank of China, which leads in renminbi clearing business in overseas markets, said that its cross-border renminbi clearing transactions totaled 214.6 trillion yuan ($35 trillion) during the Jan-Nov period in 2014, up 88.2 percent year on year.